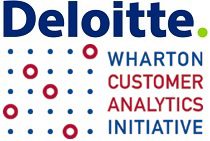 [feather_share]
Deloitte Analytics today announced a collaboration with the Customer Analytics Initiative at The Wharton School of the University of Pennsylvania (WCAI). As part of this two-year agreement, Deloitte will help advance the knowledge base around business problems that can be addressed with customer analytics by helping WCAI offer more student-facing programs and analytics-driven co-curricular activities beyond its existing research program.
WCAI is an academic research center focusing on the development and application of customer analytic methods. Acting as "matchmaker" between academia and industry, WCAI has had a broad impact on the practice of data-driven business decision-making, and the dissemination of relevant insights to managers, students and policy makers.
"The Wharton Customer Analytics Initiative is focused on providing a robust set of programs that both educates students and exposes them to a number of key topics in the analytics space," said Professor Peter Fader, Academic Co-Director of WCAI and Frances and Pei-Yuan Chia Professor of Marketing at Wharton. "WCAI is pleased to work with Deloitte to utilize the resources of the Wharton School to train the next generation of analytics professionals and executive leaders to advance our existing student offerings beyond our faculty-focused analytics research program."
As part of its initiative with WCAI, Deloitte will help sponsor student and alumni events, coordinate panel discussions atWharton conferences, and participate in exclusive forums with other WCAI corporate sponsors who are leading practitioners in analytics. Deloitte will also work with Wharton to co-develop thought leadership pieces on topics around analytics that will be released externally. The work with Wharton is part of a broader Deloitte Analytics strategy to support the maturation of business analytics education in higher education.
"Today's businesses are faced with an enormous amount of data, but often lack well trained individuals who can sift through all that data to find the most important insights for the organization," said Forrest Danson, principal, Deloitte Consulting LLP and U.S. Deloitte Analytics leader. "Deloitte's collaboration with WCAI allows us to work with one of the leading business schools in the country to help train the next generation of analytics professionals for a successful career in the space."
For more information about the Wharton Customer Analytics Initiative, please visit http://www.wharton.upenn.edu/wcai/.
For more information about Deloitte Analytics, please visit www.deloitte.com/us/deloitteanalytics.
About Deloitte Analytics

Deloitte Analytics creates value for clients by helping them transform data into deeper and more rapidly accessible insights that power informed decisions. Spanning Deloitte's portfolio of businesses, our analytics professionals work with organizations to help identify and address their requirements in business intelligence, data management, statistics, change management, technology, automation, risk and governance. Our broad-based approach is fueled by our deep industry knowledge, global presence, broad functional experience and mastery of technology. Combining advanced analytics skills – such as data visualization and performance enhancement – with the power of strategic technology alliances, Deloitte Analytics works with clients to provide tailored solutions that generate tangible and measurable results.
About the Wharton School
Founded in 1881 as the first collegiate business school, the Wharton School of the University of Pennsylvania is recognized globally for intellectual leadership and ongoing innovation across every major discipline of business education. With a broad global community and one of the most published business school faculties, Wharton creates ongoing economic and social value around the world. The School has 5,000 undergraduate, MBA, executive MBA, and doctoral students; more than 9,000 participants inexecutive education programs annually; and a powerful alumni network of more than 92,000 graduates.