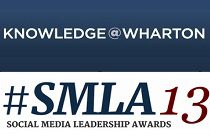 [feather_share]
Martin Ringlein to present "Fostering a Creative Economy: Designing for a Nation" at the Wharton School of the University of Pennsylvania
PONTE VEDRA BEACH, Fla. & PHILADELPHIA–Martin Ringlein, Presidential Innovation Fellow at the White House, Office of Science and Technology Policy, will keynote the Social Media Leadership Awards at the Wharton School on December 9, 2013. The awards are part of a social media conference featuring industry leaders from Adobe, Morgan Stanley, American Airlines, Campbell Soup Company, and GlaxoSmithKline, among others, who will share best practices and strategies across multiple disciplines in the industry.
Ringlein, Co-Founder of the web design agency nclud and former Design Manager at Twitter, will present "Fostering a Creative Economy: Designing for a Nation", which will include discussion of such topics as how to influence behavior, empower change and promote progress to brand a nation.
The Social Media Leadership Awards will be held December 9-10, 2013, to give social media executives an opportunity to join 200 executives for social media panels on social selling, customer service, social startups, best practices, content and communities.
The awards ceremony will honor category winners who will receive unprecedented recognition and yearlong, global exposure to an audience of two million executives and industry leaders through Knowledge@Wharton and other media channels.
Tickets for the event are available at a discounted price now through October 30, 2013. Register at smlawards.com/event-information or contact Jeanine@socialstrategy1.com for more information.
About Social Media Leadership Awards (SMLA)
The Social Media Leadership Awards is an international competition organized by Social Stategy1,AUS, Inc. and Knowledge@Wharton, and sponsored by EY, that is designed to promote best practices in social media. Corporations and organizations worldwide were solicited to submit their successful social media strategies and results, which were judged by a distinguished panel of industry leaders, businesspeople and educators in order to identify industry best practices. More than 100 entries were analyzed by the judging panel. Social Strategy1 has assembled the winning entries by category into a white paper series in order to share best practices from industry leaders.
About the Wharton School
Founded in 1881 as the first collegiate business school, the Wharton School of the University of Pennsylvania is recognized globally for intellectual leadership and ongoing innovation across every major discipline of business education. With a broad global community and one of the most published business school faculties, Wharton creates economic and social value around the world. The School has 5,000 undergraduate, MBA, executive MBA, and doctoral students; more than 9,000 annual participants in executive education programs; and a powerful alumni network of 92,000 graduates.