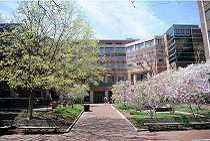 [feather_share]
PHILADELPHIA — The Wharton School's Aresty Institute of Executive Education and FINRA are marking their 13th year offering securities industry compliance and regulatory professionals the opportunity to enhance their skills and knowledge through the Certified Regulatory Compliance ProfessionalTM (CRCP) Program.
The newly re-designed two-week program is conducted over non-consecutive weeks at Wharton's Steinberg Conference Center, and some 50 professionals are expected to qualify for their CRCP designation after completing their second week of study beginning Nov. 11, 2013. Since its inception, more than 900 compliance and regulatory professionals have received the CRCP designation.
Professor Jill E. Fisch, Perry Golkin Professor of Law and co-director of the Institute for Law and Economics at the University of Pennsylvania Law School, has been appointed co-faculty director for the CRCP program. Professor Fisch's teaching and research focus on corporations, securities regulation, and corporate governance. She is a nationally recognized and widely published expert who has also recently accepted a secondary appointment in Wharton's Legal Studies and Business Ethics Department.
Fisch joins Eric W. Orts, Guardsmark Professor of Legal Studies and Business Ethics at Wharton. Orts has served as a co-faculty director of the CRCP program since 2000. Orts also teaches and writes widely in the field, having most recently published Business Persons: A Legal Theory of the Firm (Oxford University Press 2013).
This year, Professors Fisch and Orts have significantly redesigned the program and updated its content to fit fast-changing regulatory and business developments. They have expanded the number of faculty both within and outside of Wharton and Penn Law in continuing in the CRCP program's tradition of an interdisciplinary approach to contemporary securities and financial regulation. Participants benefit from learning from top-level academics as well as seasoned regulators and practitioners who provide extensive expertise in capital markets, broker-dealer compliance, finance, and other relevant topics. The program's redesign is intended to appeal to lawyers as well as non-lawyers, and it offers Continuing Legal Education credit as well as the CRCP certification.
The new curriculum is grouped thematically to combine a comprehensive overview of the contemporary regulatory environment with a more granular focus on specific key areas of practice. The redesigned curriculum tackles such timely topics as managing conflicts of interest, internal risks, and fast-changing regulatory developments through a mix of pedagogical techniques in a conversational and interactive format. A distinctive feature of the program lies in the involvement of both private sector and regulatory professionals as participants.
The second week of the program, to be delivered in November, examines topics including new market structures and technological developments and their effect on market volatility, order execution, and supervision responsibilities. The program also addresses the growing importance of privacy and data protection, business ethics, and insider trading prohibitions.
"Participants will gain a broader understanding of capital market regulation and the developments in compliance and risk identification practices necessary to meet today's challenges. They will also gain an extended network of industry peers and credibility that comes from earning the CRCP designation," says Fisch.
"As a result of the credit crisis of 2008, the U.S. regulatory system has undergone its most extensive overhaul since it was created in the late 1930s and early 1940s," Orts adds. "We believe that the CRCP program is more important than ever to help compliance professionals keep pace with the changes."
"FINRA's longstanding partnership with Wharton has made the CRCP program the premier executive education program for securities industry compliance and regulatory professionals. Participants gain a world-class executive education experience," says Cathy Mattax, Senior Vice President, FINRA Member Education and Training. CRCP candidates include compliance and regulatory professionals in the securities industry, business-line professionals with increasing compliance responsibilities, and individuals from state and federal regulatory agencies. Prospective candidates are encouraged to visit the FINRA website (www.finra.org/crcp) to determine if the program curriculum meets their needs. There are no prerequisites for applying to the program.
Individuals or firms also may learn more about the CRCP program by visiting Wharton's Executive Education CRCP page:  http://executiveeducation.wharton.upenn.edu/for-individuals/all-programs/finra-wharton-certified-regulatory-and-compliance-professional-crcp-program.
The cost for each week-long course in 2013 is $8,875 for FINRA-regulated firms and government regulators, or $9,675 for others. Candidates are encouraged to complete the first week of study before taking the second week-long session.
ABOUT FINRA
FINRA, the Financial Industry Regulatory Authority, is the largest independent regulator for all securities firms doing business in the United States. FINRA is dedicated to investor protection and market integrity through effective and efficient regulation. FINRA touches virtually every aspect of the securities business – from registering and educating all industry participants to examining securities firms, writing rules, enforcing those rules and the federal securities laws, informing and educating the investing public, providing trade reporting and other industry utilities, and administering the largest dispute resolution forum for investors and firms. For more information, please visit www.finra.org.
ABOUT THE WHARTON SCHOOL
Founded in 1881 as the first collegiate business school, the Wharton School of the University of Pennsylvania is recognized globally for intellectual leadership and ongoing innovation across every major discipline of business education. With a broad global community and one of the most published business school faculties, Wharton creates economic and social value around the world. The School has 5,000 undergraduate, MBA, executive MBA, and doctoral students; more than 9,000 annual participants in executive education programs; and a powerful alumni network of 92,000 graduates.