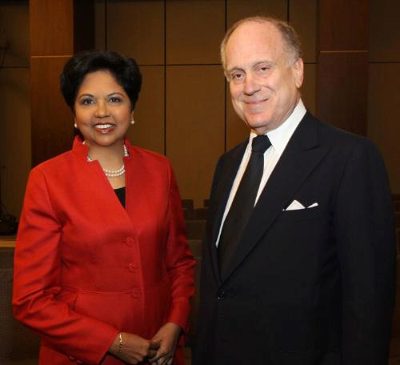 [feather_share]
Indra Nooyi of PepsiCo addresses alumni in NYC, calls development of global business skills essential
PHILADELPHIA — The Lauder Institute at the University of Pennsylvania celebrated 30 years of world-class international management education with alumni events at the Grand Hyatt, Neue Galerie and the Museum of Modern Art in New York City, over the weekend.  The program's alumni all hold joint-degrees in international management, integrating the Wharton MBA with an MA in International Studies from Penn's School of Arts and Sciences or a JD from Penn Law.
The alumni forum included a keynote address from Indra Nooyi, Chairman and Chief Executive Officer of PepsiCo, one of the world's leading food and beverage companies. Mrs. Nooyi spoke about the changing global landscape and how business schools must evolve in order to equip the next generation of leaders with the skills they need to lead and shape successful, responsible corporations.  "To lead a successful corporation, you must have a deep and abiding interest in both the path immediately in front of you and the horizon to which you're headed. It requires managing for the short and long term," Nooyi told attendees. "We must train students to operate effortlessly in a multi-stakeholder, multi-disciplinary, multi-cultural, and multi-dimensional world."
The Lauder Institute was founded in 1983 by Leonard A. Lauder, Chairman Emeritus of the Estee Lauder Companies and the Honorable Ronald S. Lauder, current Chairman of the Lauder Institute's Board of Governors.  The Lauders' vision was to give MBA candidates enhanced foreign language skills and international business acumen for a rapidly expanding global economy.
"Our graduates have been and continue to be impressive global leaders in their respective fields," says Mauro Guillén, Director of the Lauder Institute.  "It's very inspiring to get our alumni together at forums like this and see how our network stretches fromNew York to Paris to Tokyo, and beyond.  We have alumni drawing on their Lauder education and experience every day in high-profile positions with global companies such as PepsiCo and McKinsey; who have directed innovation for the Peace Corps; and who are leading operations for Condé Nast in China.   They speak the language of business, whether in Hindi or in Chinese – and they speak it fluently."
Over the years the Lauder Institute has grown, now offering advanced language study with dedicated staff in nine languages, including the newly launched Hindi program (South Asia), Arabic (Middle East), Mandarin Chinese, Japanese (East Asia), Portuguese, Spanish (Latin America) – as well as French, German and Russian (Europe). The new Global Program, which began in 2013, was designed specifically for multi-lingual Lauder candidates. All students participate in a summer immersion program, international business and management training, advanced language and cross-cultural studies during their two years at the Institute—both on campus and overseas.
"It is heartening to see how many successful global careers have been developed since the Lauder Institute was created 30 years ago," says Ronald Lauder. "They are the result of a truly exceptional business education that gave them the skills and knowledge to navigate international business environments and connect with others on a pragmatic, cultural level.  Leonard and I, along with William, have been highly invested in the success of the Lauder Institute, something we will continue to support through the next generation."
A new capital campaign to raise $20 million was announced at the weekend forum, with plans to invest in expanding student fellowships, develop new innovative curriculum, and enhanced visibility for the program.
About the Lauder Institute
The University of Pennsylvania's Lauder Institute, founded in 1983, combines a world–renowned Wharton MBA with a Master's in International Studies. Advanced language and foreign culture training, a two-month in-country immersion program, and a Master's Thesis from the School of Arts & Sciences all prepare Lauder Fellows for the ever-evolving global economy. This year's offerings include the new Global Program for students who are already fluent in several languages. Graduates join the diverse, supportive and committed worldwide Lauder community – continuing a nearly 30-year tradition of international business leadership.  The Lauder Institute also offers an MA/JD joint degree. For more information, visit www.lauder.wharton.upenn.edu.
About the Wharton School
Founded in 1881 as the first collegiate business school, the Wharton School of the University of Pennsylvania is recognized globally for intellectual leadership and ongoing innovation across every major discipline of business education. With a broad global community and one of the most published business school faculties, Wharton creates economic and social value around the world. The School has 5,000 undergraduate, MBA, executive MBA, and doctoral students; more than 9,000 annual participants in executive education programs; and a powerful alumni network of 92,000 graduates.
About the School of Arts & Sciences
The School of Arts & Sciences provides a foundation for the scholarly excellence that has established Penn as one of the world's leading research universities. The School enrolls 6500 undergraduates, admits approximately 250 students each year into its 32 doctoral programs, and offers a wide range of programs for lifelong learning. International studies are a vibrant enterprise at the School of Arts & Sciences. In addition to offering instruction in 50 languages, the school is home to an array of centers, programs and institutes dedicated to the study of world regions and contemporary global issues and conflicts.