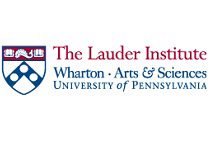 [feather_share]
Philadelphia, PA — The Joseph H. Lauder Institute of Management and International Studies of the University of Pennsylvania and the Wharton School are pleased to announce the launch of its inaugural fundraising and engagement campaign: The Lauder Institute Challenge: Investing in Global Leaders. This five-year, $20 million campaign is supported by the Chairman of the Institute's Board of Governors Ronald S. Lauder and the Lauder Foundation.
Together with his brother, Leonard A. Lauder, and nephew, William P. Lauder—Chairman Emeritus and Executive Chairman of Estée Lauder Companies Board of Directors respectively—he will provide up to $10 million in matching contributions. Pledges from Lauder alumni and friends will reinforce the tremendous value of the Lauder experience and degree, and enable the Institute to continue to educate new generations of prominent, influential Lauder students from across the globe by investing in student fellowships, curricular innovations, and technology.
"The Lauder Institute is a world-renowned leader in global business education with an innovative interdisciplinary approach that has become a hallmark of Penn," Penn President Amy Gutmann said.  "The Lauder Institute Challenge is an exciting opportunity to engage alumni, business leaders, and friends in reconnecting with the enduring mission and vision of the Institute.  We are tremendously grateful to the Lauder Family for such a generous match, which will double the impact for everyone who wants to contribute to ensuring that the Institute has an even stronger, indeed stellar, future."
The Lauder Institute Challenge is launching concurrently with the Institute's 30th anniversary, and was formally announced during the recent 4th Lauder Global Alumni Weekend when hundreds of Lauder alumni from around the world gathered in New York City. Weekend highlights included a reception at the Neue Galerie, Indra K. Nooyi, Chairman and CEO of PepsiCo as the Keynote Speaker, and a Gala at the Museum of Modern Art, at which The Lauder Institute Challenge was unveiled.
"While the Lauder Institute's approach to business education—and its alumni network—is unlike any other, we must continue to evolve to be at the forefront of global business education and to deliver on our founding mission: to prepare global leaders who speak the language of business, politics, and culture fluently," Professor Mauro Guillén, Director of the Lauder Institute and Dr. Felix Zandman Professor of International Management at the Wharton School said. "The Lauder Institute Challenge will truly transform our ability to deliver the best integrated education available."
"My brother Leonard and I," stated Ronald S. Lauder, "set out to create a unique environment in which to nurture and develop our future global leaders.  Our goal was to attract candidates who honored the best qualities of our father, Joseph:  intelligence, curiosity and an openness to the world.  We could never have imagined 30 years later we would be celebrating such an accomplished group of leaders—and a program that continues to define global business education.  We are delighted to have the next generation of Lauder family commitment with the addition of William to the board."
The Institute was established in 1983 by Leonard A. Lauder and Ronald S. Lauder in honor of their father Joseph H. Lauder, who cofounded the Estée Lauder Companies with their mother, Estée Lauder. An international company, Estée Lauder had a critical need for talented business leaders who understood cultures and languages outside of the United States. In founding the Institute, the Lauders aimed to broaden the field and produce a new breed of international executives who had the cultural savvy and business acumen to be successful in the global marketplace. In 1984, the Lauder Institute admitted its first class of 51 students, who hailed from 13 countries. Today, its graduates work around the world in industries ranging from consulting and financial services to energy, marketing, media and entertainment, government, education, and the nonprofit sectors.
The program's Lauder Fellow alumni all hold dual degrees, integrating an MA in International Studies from Penn's School of Arts and Sciences with an MBA from the Wharton School, or a JD from Penn Law.  Lauder Fellows also earn a certificate of language fluency.
Ronald S. Lauder is a 1965 graduate of the Wharton School. In 1987, he established the Ronald S. Lauder Foundation, which is dedicated to revitalizing Jewish communities in Central and Eastern Europe. He is currently Chairman of Clinique Laboratories, which is part of Estée Lauder. His brother, Leonard A. Lauder, is a 1954 Wharton graduate and Chairmen Emeritus of Estée Lauder. William P. Lauder received his bachelor's degree from Wharton in 1983. He is the son of Leonard and Evelyn Lauder, and has been Executive Chairman of Estée Lauder since 2009.
About the Lauder Institute
The University of Pennsylvania's Lauder Institute, founded in 1983, combines a world–renowned Wharton MBA with a Master's in International Studies. Advanced language and foreign culture training, a two-month in-country immersion program, and a Master's Thesis from the School of Arts & Sciences all prepare Lauder Fellows for the ever-evolving global economy. This year's offerings include the new Global Program for students who are already fluent in several languages. Graduates join the diverse, supportive and committed worldwide Lauder community – continuing a nearly 30-year tradition of international business leadership.  The Lauder Institute also offers an MA/JD joint degree. For more information, visit www.lauder.wharton.upenn.edu.
About the Wharton School
Founded in 1881 as the first collegiate business school, the Wharton School of the University of Pennsylvania is recognized globally for intellectual leadership and ongoing innovation across every major discipline of business education. With a broad global community and one of the most published business school faculties, Wharton creates ongoing economic and social value around the world. The School has 5,000 undergraduate, MBA, executive MBA, and doctoral students; more than 9,000 annual participants in executive education programs; and a powerful alumni network of more than 92,000 graduates.
About the School of Arts & Sciences
The School of Arts & Sciences provides a foundation for the scholarly excellence that has established Penn as one of the world's leading research universities. The School enrolls 6500 undergraduates, admits approximately 250 students each year into its 32 doctoral programs, and offers a wide range of programs for lifelong learning. International studies are a vibrant enterprise at the School of Arts & Sciences. In addition to offering instruction in 50 languages, the school is home to an array of centers, programs and institutes dedicated to the study of world regions and contemporary global issues and conflicts.