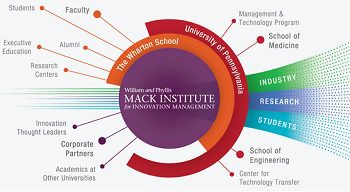 [feather_share]
The Mack Institute for Innovation Management at the Wharton School of the University of Pennsylvania will host its annual Fall Conference in Philadelphia on November 22, 2013 on the topic of "When Disruptive Technologies Meet Integrated Systems: Who Captures the Value?" This event is the Mack Institute's first joint conference with the Program on Vehicle and Mobility Innovation (PVMI), a research network focusing on critical questions of mobility and the global automotive industry. PVMI joined the Mack Institute in 2013.
The conference will examine the challenges and opportunities that occur when new technologies drive convergence across very different industries. Drawing on lessons learned from the automotive industry, speakers will discuss how firms can capture and retain value during periods of technology-driven uncertainty. J.D. "Dave" Power III, founder of J.D. Power and Associates and a 1959 Wharton MBA alumnus, will provide the keynote address. Other confirmed speakers include senior executives from Nissan, Google/Motorola Mobility, and Hertz, discussing disruptive technologies.
"Since its founding PVMI has tracked disruptive changes in the auto industry. With our Fall Conference, we will explore the latest transformation, with new technologies bringing fundamental changes to both vehicles and business models, creating opportunities for new entrants and challenges for incumbents," said Wharton Prof. John Paul MacDuffie, Director of PVMI. "I'm eager to explore these issues at our Conference and pleased that some of the industry's leading innovators–both established players and disrupters–will join us."
Panel sessions at the conference include:
"When Clockspeeds Collide: Integrating IT into New Vehicles"
"The Future of Energy Systems: When Bottom-Up Innovations Meet Integrated Infrastructure"
"Disrupting Your Business Model (Before Someone Else Does)'
PVMI is the largest and oldest international researcher consortium focused on understanding the challenges facing the global automotive industry. PVMI's network includes more than 50 prominent scholars of innovation, strategy, technology, operations, organization, and human resources, who have conducted interdisciplinary—often collaborative—research at more than 25 universities worldwide. This network of scholars has produced innovative, influential research, established benchmarking standards, and has probed topics across the automotive value chain.
"We're pleased to host our first conference with PVMI," said Wharton Adjunct Assoc. Prof. Saikat Chaudhuri, Executive Director of the Mack Institute. "The program's global network of scholars is a powerful addition to the Mack Institute's robust research community. We look forward to an event that combines the expertise of current industry leaders with the broad perspective gained by nearly thirty years' rigorous study of the global automotive industry."
The Mack Institute hosts numerous events that bring together members from its unique network of corporate executives, industry experts and academic researchers. In addition to annual Fall and Spring Conferences, the Mack Institute holds workshops which in the past have focused on such themes as "Internal Venturing" and "Leveraging Big Data." More information on becoming a Mack Institute corporate partner is here: http://bit.ly/17sl6fi
About the Wharton School
Founded in 1881 as the first collegiate business school, the Wharton School of the University of Pennsylvania is recognized globally for intellectual leadership and ongoing innovation across every major discipline of business education. With a broad global community and one of the most published business school faculties, Wharton creates ongoing economic and social value around the world. The School has 5,000 undergraduate, MBA, executive MBA, and doctoral students; more than 9,000 annual participants in executive education programs; and a powerful alumni network of more than 92,000 graduates.
About the Mack Institute for Innovation Management
The Mack Institute for Innovation Management at the Wharton School is an exclusive network that connects business leaders, researchers, world-class Wharton faculty, and students. At the Institute, thought leaders from across academic disciplines and industries come together to explore how companies survive, compete, and thrive through innovation management. The Institute's multidisciplinary faculty and researchers develop practical approaches to managing innovation and share this knowledge through thought-provoking conferences, workshops, and publications.