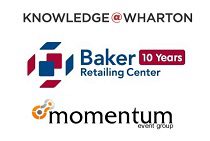 [feather_share]
PHILADELPHIA, PA–Knowledge@Wharton, the Wharton School of the University of Pennsylvania's online research and business analysis journal, today announced it will launch a conference for senior executives in the consumer goods and retail industries. Titled, "High Velocity Growth 2014: The Retail and Consumer Goods Summit," the two-day event will take place on April 28-29, 2014, at the NASDAQ MarketSite in Times Square, New York.
The program will feature presentations from retail and consumer goods leaders, including:
Carlos Alberini, Co-CEO, Restoration Hardware
Stacey Bendet, CEO and Creative Director, Alice + Olivia
Tariq Farid, CEO, Edible Arrangements
Sangita Forth, VP of Brand, Plum Organics
David Gilboa, Co-Founder & Co-CEO, Warby Parker
Keith Kantor, CEO, Green Box Foods
Jeffrey Koziel, Market Vice President, Walgreens
Victor Misawa, VP of Marketing for the Creative and Writing Brands, Newell Rubbermaid 
Laxman Narasimhan, Senior Vice President & Chief Financial Officer, PepsiCo Americas Foods
Christopher Quinn, EVP, North America and Retail, New Balance
Mieke van der Loo, Chief Strategy Officer, Bugaboo

Moderators will include Wharton marketing professor Barbara Kahn, director of Wharton's Jay H. Baker Retailing Center, one of Knowledge@Wharton's partners for this event. "It's fascinating to see how retail and consumer goods companies continue to find creative ways to innovate in this fast-paced, ever-changing world," says Kahn. "The Baker Retailing Center is happy to be part of this conference featuring some of today's most exciting growth companies."
The conference is designed to be a unique learning and networking forum. It is expected to attract some 200 senior-level executives and decision makers from the consumer goods and retail industry across a variety of sectors.
Mukul Pandya, Knowledge@Wharton's editor-in-chief, notes: "We are delighted to have the support of some of the nation's fast-growing companies and are expecting the event to present a combination of cutting-edge insights from established organizations that have experienced growth and innovation for decades alongside today's emerging brands."
Presentations will focus on strategies specific to consumer goods companies and retailers in search of growth, and real-world case studies from some of the world's most growth-oriented companies. In addition to keynote presentations, the summit will feature panels and fireside chats as well as extensive time for Q&A, discussion among participants, and networking opportunities.
The summit is hosted by Knowledge@Wharton in partnership with Momentum Events and the Wharton School's Jay H. Baker Retailing Center. NASDAQ is the summit's founding sponsor.
More information, including details on how to register, is available at www.knowledge.whartonevents.com.
About the Wharton School, Knowledge@Wharton and the Jay H. Baker Retailing Center
Founded in 1881 as the first collegiate business school, the Wharton School of the University of Pennsylvania is recognized globally for intellectual leadership and ongoing innovation across every major discipline of business education. With a broad global community and one of the most published business school faculties, Wharton creates economic and social value around the world. The School has 5,000 undergraduate, MBA, executive MBA, and doctoral students; more than 9,000 participants in executive education programs annually and a powerful alumni network of 92,000 graduates.
Knowledge@Wharton is the online business analysis journal of the Wharton School of the University of Pennsylvania. The site, which is free, captures relevant knowledge generated at Wharton and beyond by offering articles and videos based on research, conferences, speakers, books and interviews with faculty and other experts on current business topics. The Knowledge@Wharton network – including Chinese, Spanish, Portuguese, Indian, Arabic, Israeli and High School editions – has more than two million subscribers worldwide.
The Jay H. Baker Retailing Center is an interdisciplinary research center at the Wharton School that was established by Patty and Jay Baker (Wharton 1956 undergraduate alumnus), former President of Kohl's Corp. Its mission is to be the global leader in retail knowledge and education through cutting-edge academic research, student and alumni activities, academic-industry programs, and global initiatives. Working with faculty, senior-level industry partners, students, and alumni, the Baker Retailing Center is one of the world's premier retailing centers. For more information, please visit the Baker Retailing Center's website (www.wharton.upenn.edu/bakerretail).
About Momentum Events
Momentum Events is a leading international event creation and execution specialist working with numerous partners in order to bring their brands to life through customized live-event experiences. With an emphasis on rigorous research and world-class customer service, its team comprises many of the leading names in event creation and execution. For more information about Momentum, visit www.momentumevents.com
Media contact:
Peter Winicov
Wharton School Media Relations
+1-215.746.6471
winicov@wharton.upenn.edu