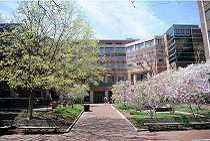 [feather_share]
Wharton program has educated almost 700 High Net-Worth Individuals over the past 15 years
The Wharton School of the University of Pennsylvania and the Institute for Private Investors (IPI) joint executive education program targeting affluent families, Private Wealth Management, will offer two sessions in 2014 to mark the program's 15th anniversary. Since its inception in 1999, almost 700 individuals have attended the five-day program.
The spring 2014 session will be held April 27 – May 2, 2014 at Wharton's Steinberg Conference Center in Philadelphia. The summer session will be held August 3 – 7, 2014 on Wharton's campus in San Francisco. The Private Wealth Management Program gives managers of family offices and family members themselves an unbiased, rigorous curriculum on financial markets and their implications for family wealth management. Wharton's experienced finance faculty provides cutting-edge thinking on how these individuals can best manage wealth in today's complex environment.
"Wealth management is not the same today as it was five years ago," observes David Berger, CEO of the Americas for Campden Wealth, the U.K.-based parent company of IPI. "The markets have changed so dramatically – this complexity has created a real impetus for families to relook at their risk and liquidity profile and reassess their asset allocation strategies. Wharton's program offers an unbiased, independent perspective on the market with the latest thinking on how best to manage wealth."
Family offices face many new challenges since the sharp market correction of 2008 in how they manage wealth, control costs and plan for the future. According to a 2013 IPI research study of family offices, more than a quarter have more than $500 million under management and more than 50% of those have been in operation for over a decade, often started by technology entrepreneurs or private equity executives.
Increasingly, these offices are considering direct investments in companies, especially in the emerging technology area, instead of investing through third-party funds. The founders of these family offices are also more driven to build a legacy through philanthropy and, in many cases, less focused on leaving vast fortunes to their spouses, children or other surviving relatives. In addition, many families now are looking to emerging international markets for greater diversification, whereas before they might have limited their investments to U.S. and other developed industrialized markets.
"The IPI/Wharton course provides wealth holders with the ammunition to ask the right questions of their advisers," says Berger, who is also a past participant of the Wharton program.
This distinctive Wharton experience uses class lectures, interactive casework, and participants' personal experiences to increase participants' depth of knowledge of key areas of private wealth management, from modern portfolio theory, global markets and asset allocation to family governance and evaluating investment managers.
"There's been an interesting change in the program in the last few years that increasingly it's global in scope. Roughly a third of the families attending the program are from outside the United States," says Wharton Finance Professor Richard Marston who is the program's faculty director. This international presence and the availability of investment opportunities around the world have, in turn, "encouraged us to update the curriculum so that it's even more comprehensive than it was before. It's important for all family members to understand the different types of investment opportunities that are potentially available to them."
Charlotte Beyer, Founder of the Institute for Private Investors and President of Principle Quest Foundation agrees. "After 15 years of participating in the program, I still marvel at how the families value the interaction with each other almost as highly as the formal curriculum. That's because to solve the case study, these individuals call upon both their own experience, as well as knowledge gained during the week. A sense of community begins on the first night and continues well after they leave Wharton campus."
For more information about Wharton's Private Wealth Management program or to enroll, please call +1.215.898.1776 or email execed(at)wharton(dot)upenn(dot)edu.
ABOUT THE INSTITUTE FOR PRIVATE INVESTORS
The Institute for Private Investors, IPI, is the preeminent global membership network for families of substantial wealth. Since 1991, ultra-affluent families and private investors have looked to IPI for innovative educational and networking resources. Through its affiliation with Campden Wealth, IPI is the bridge from the U.S. to the private global community of ultra-affluent business-owning and financial families in Asia, Latin America, Europe and the Middle East.
ABOUT THE WHARTON SCHOOL
Founded in 1881 as the first collegiate business school, the Wharton School of the University of Pennsylvania is recognized globally for intellectual leadership and ongoing innovation across every major discipline of business education. With a broad global community and one of the most published business school faculties, Wharton creates economic and social value around the world. The School has 5,000 undergraduate, MBA, executive MBA, and doctoral students; more than 9,000 participants in executive education programs annually and a powerful alumni network of 92,000 graduates.
MEDIA CONTACTS
David Berger
CEO of the Americas
Campden Wealth
Tel: +1.212.693.1300
Email: db(at)memberlink(dot)net
Eleena de Lisser
Director of Marketing Communications
Aresty Institute of Executive Education
The Wharton School
University of Pennsylvania
Tel: +1.215.898.7239
Email: execed-pr(at)wharton(dot)upenn(dot)edu