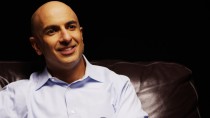 San Francisco, CA, and Philadelphia, PA — The Wharton School of the University of Pennsylvania has announced that MBA alumnus Neel Kashkari, Candidate for Governor of California, will be the featured speaker at the School's 2014 graduation ceremony for the MBA Program for Executives at Wharton | San Francisco. The ceremony will take place May 4, 2014, at Nourse Theatre, 275 Hayes Street, San Francisco, CA. Mr. Kashkari, WG'02, was appointed by the U.S. Senate as Assistant Secretary of the Treasury in 2008.  In this role he oversaw the Troubled Asset Relief Program, which was created to address the financial crisis that was then jeopardizing the U.S. economy.  For his leadership, Mr. Kashkari received the Alexander Hamilton Award, the U.S. Treasury Department's highest honor.
"Having worked in leadership positions in both the public and private sectors, Neel Kashkari's experiences are sure to be instructive to our graduates," said Wharton Dean Thomas S. Robertson. "Indeed, Neel exemplifies the diverse career paths to which a Wharton business education can lead."
A first-generation American raised in Akron, OH, Mr. Kashkari began his career in public service in 2006, shortly before the housing downturn began.  He led the Treasury Department's work with non-profit organizations, congressional leaders and financial institutions to help distressed homeowners avoid preventable foreclosures.  As the financial crisis emerged, Mr. Kashkari negotiated with congressional leaders of both parties to write and pass landmark legislation to prevent a widespread economic collapse.
After Mr. Kashkari left the Treasury Department in May 2009, he joined PIMCO, a global investment management firm based in California. He left PIMCO in January 2013 to explore returning to public service. On January 21, 2014, he announced his candidacy for Governor of California with a platform focused on creating good jobs and ensuring every California student gets a high-quality education."
Mr. Kashkari received his MBA from the Wharton School.  He also earned Bachelor's and Master's degrees in Engineering from the University of Illinois.
Previous graduation speakers at Wharton | San Francisco have included Carol Bartz, Arthur Bilger (W'75), Jon Huntsman Jr. (C'87, HON'10), Ken Moelis (W'80, WG'81), Paul S. Otellini and David Pottruck (C'70, WG'72). Wharton established a campus in San Francisco due to the strong belief that business executives would be well served by the option to pursue a robust, full-curriculum Wharton MBA without the need to cross the United States. The School has graduated more than 800 students from its Wharton MBA Program for Executives in San Francisco, and in 2012 moved to its new home at Hills Plaza.
Information about the University of Pennsylvania's 258th Commencement ceremony is available at www.upenn.edu/commencement.
About Wharton | San Francisco and the Wharton School
Wharton MBA Program for Executives in San Francisco was one of the first programs launched at Wharton | San Francisco, the School's campus in San Francisco. It offers the same MBA degree, rigorous curriculum, top Wharton faculty and high level of students as the traditional MBA program on Wharton's main campus in Philadelphia. A residential program, students attend classes on alternate weekends and during two week-long sessions in the summer. Because Wharton students live and work together during focused on-site sessions, students have an opportunity to forge close connections with classmates as well as to foster teamwork skills. In addition, the integration of work and study provides a living laboratory for applying knowledge.
Founded in 1881 as the first collegiate business school, the Wharton School of the University of Pennsylvania is recognized globally for intellectual leadership and ongoing innovation across every major discipline of business education. With a broad global community and one of the most published business school faculties, Wharton creates economic and social value around the world. The School has 5,000 undergraduate, MBA, executive MBA, and doctoral students; more than 9,000 participants annually in executive education programs; and a powerful alumni network of 92,000 graduates.
###