Philadelphia, PA, May 14, 2014 – The Wharton School of the University of Pennsylvania has announced that the Hong Kong University of Science and Technology (HKUST) today appointed Wharton Prof. of Management, Jitendra V Singh as Dean of its School of Business and Management (HKUST Business School), as of September 1, 2014.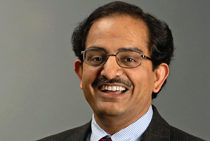 Prof. Singh is a world class management scholar and business educator. He also has extensive links with global academic institutions and public and private sector companies. He is currently the Saul P Steinberg Professor of Management at the Wharton School, where he has played a number of significant roles in boosting the school's global presence since joining the faculty in 1987. Prof Singh's HKUST appointment was based on an open and competitive worldwide search.
Prof Tony F Chan, President of HKUST, said he was very pleased that the University has found such an acclaimed scholar and able administrator to lead HKUST Business School given the highly competitive nature of the current recruitment environment among top business schools globally. "With Prof Singh's wide-ranging experience and achievements in the academic, business strategy and policy arenas, I am certain he will bring HKUST Business School to new heights. We are excited about this appointment!"
Prof Singh has served as a board member for various private and public sector corporations. He has also been active in advising a range of companies from start-ups to venture capital firms, including publicly listed Infosys Technologies, a leading global software firm. Most recently, he served on the Board of Governors at SAFTI Military Institute, Singapore and the Board of Directors of SPRING Singapore – a public organization responsible for all small and medium enterprises in the Lion City.
Prof Jitendra Singh said, "I am honored to have been chosen to lead the School of Business and Management at HKUST and it is exciting for me to be back in Asia at a time when momentous changes are under way. I look forward to working with the university and business school leadership to build on the strong foundations that are already in place, and strive toward ever higher goals, while contributing both to the region and to global society."
At Wharton, Prof Singh has played numerous roles, including being part of the Core Team of faculty leaders for the Mack Institute for Innovation Management, now a successful university-wide initiative. As Wharton's Vice-Dean, International Academic Affairs, from 1998 to 2001, he contributed to the establishment of the Singapore Management University in Singapore, the worldwide alliance between Wharton and INSEAD, and the foundation of the Indian School of Business in Hyderabad, India. From 2007 to 2009, while on leave from Wharton, he was Dean and Shaw Foundation Chair, Professor of Strategy, Management and Organization of Nanyang Business School at Nanyang Technological University, during which time the school's profile enjoyed a substantial international ascent.
"Jitendra has been an invaluable member of the Wharton community," said Thomas S Robertson, Dean of The Wharton School. "It is a bittersweet moment for the School to see him go, but we look forward to opportunities for future cooperation with the Hong Kong University of Science and Technology."
Prof Singh received his PhD from Stanford University and has an MBA from the Indian Institute of Management, Ahmedabad. He has also been awarded an MA (honoris causa) degree by the University of Pennsylvania. He has written four books and published over 45 papers in leading management and social science journals, and has lectured to executive and academic audiences in North America, Europe, Asia and South America. His research interests broadly span strategy and organization, with an emphasis on multinational corporations, emerging economies, organizational evolution, and entrepreneurship.
About the Wharton School
Founded in 1881 as the first collegiate business school, the Wharton School of the University of Pennsylvania is recognized globally for intellectual leadership and ongoing innovation across every major discipline of business education. With a broad global community and one of the most published business school faculties, Wharton creates economic and social value around the world. The School has 5,000 undergraduate, MBA, executive MBA, and doctoral students; more than 9,000 participants in executive education programs annually and a powerful alumni network of 92,000 graduates.