Philadelphia, PA, January 5, 2015—The Wharton School of the University of Pennsylvania is pleased to announce the awarding of the Wharton Dean's Medal, the School's highest honor, to one of its most distinguished alumni, Jay H. Baker, W'56.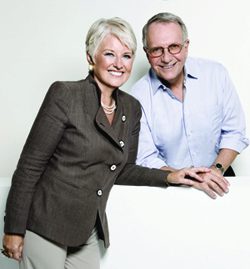 Wharton Dean Geoffrey Garrett said, "Presenting Jay Baker with the Dean's Medal was a great honor. Jay is a true visionary and one of the Wharton School's most cherished friends. Not only is he a titan of the retail industry and the number-one champion of retail's role in business education, he is also an inspired philanthropist committed to making positive change in the world, providing leadership and generous support to universities, hospitals, museums, performing arts groups, and more, all across the country. I am proud to recognize Jay's lifetime of achievement and impact on the global business community by awarding him the Dean's Medal."
The Dean's Medal was created in 1983 to recognize outstanding leaders of private enterprise, public service, and academia. The awardees are chosen for their contributions to the enlargement of the global economy and to improvement in the lives of people worldwide. The Dean selects only a very small number of individuals who, through excellence in management, have truly made a difference in the creation of wealth and value, and in the promotion of a peaceful and prosperous world.
Dr. Jay Baker is the retired President and Director of Kohl's Corporation. He was named President of Kohl's in 1986, when he helped lead a management buyout from BATUS. Under his leadership, the company grew from 40 stores to 350, with revenue increasing from $280 million into a $6-billion-plus corporation. Dr. Baker held executive positions with BATUS from 1977 to 1986, including General Merchandise Manager, Director of Stores for Saks Fifth Avenue, President and Chairman of Thimbles, and ultimately Chairman for Corporate Buying, BATUS Retail. Prior to Kohl's and BATUS, he had successful tenures at retailers Macy's, Ohrbach's, and Famous Barr. Dr. Baker studied Management and Marketing as an undergraduate student at Wharton. After graduating in 1956, he served in the U.S. Army.
Dr. Baker and his wife, Patty Baker, established the Jay H. Baker Retailing Initiative in 2002, endowing it permanently as a Center in 2010. Dr. Baker is the Chairman of the Jay H. Baker Retailing Center and a past member of Wharton's Board of Overseers and Undergraduate Executive Board.
About the Wharton School
Founded in 1881 as the first collegiate business school, the Wharton School of the University of Pennsylvania is recognized globally for intellectual leadership and ongoing innovation across every major discipline of business education.  With a broad global community and one of the most published business school faculties, Wharton creates ongoing economic and social value around the world. The School has 5,000 undergraduate, MBA, executive MBA, and doctoral students; more than 9,000 annual participants in executive education programs; and a powerful alumni network of more than 93,000 graduates.