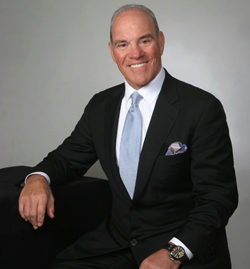 Philadelphia, PA — The Wharton School of the University of Pennsylvania has announced that David S. Pottruck (C'70, WG'72), a Penn undergraduate and Wharton MBA alumnus, will be the featured speaker at the School's MBA for Executives graduation ceremony in Philadelphia.  The May 16, 2015 ceremony will take place at the Annenberg Center for Performing Arts Zellerbach Theatre, 3680 Walnut Street, Philadelphia, PA.  Mr. Pottruck is the Chairman of HighTower Advisors, a $30 billion wealth management firm that he helped launch in 2008.  He was formerly a Trustee of the University of Pennsylvania and is currently a Senior Fellow and adjunct faculty member at Wharton's Center for Leadership and Change Management.
"Dave is a shining example to all of the power of Wharton knowledge to garner success, of which he has achieved so much throughout his career," said Geoff Garrett, Dean of the Wharton School.  "In addition, Dave typifies a generosity of spirit, giving back knowledge to our students through teaching at Wharton.  I can ask for no better speaker to inspire our hard working graduates."
Mr. Pottruck is the former chief executive officer of Charles Schwab and author of the New York Times and Amazon best-sellers Stacking the Deck and Clicks and Mortar. No stranger to reinvention and transformation during his 20-year career, Mr. Pottruck helped Schwab revolutionize the way stocks and mutual funds are bought and sold, resulting in the company being one of the first to rebuild its business model around the Internet. He paved the way for a new kind of financial services firm that ultimately became the industry standard. He was integral in growing the company from $50 million in revenue to $5 billion, increasing client assets from $5 billion to more than $1 trillion, and increasing Schwab's market cap from $450 million to over $30 Billion. His experience has spanned industries such as finance, airlines, and technology.
Mr. Pottruck has been a frequent guest on CNBC and quoted, interviewed, and profiled by virtually every financial publication of note. He has been named by Smart Money as one of the three most influential executives in the world of investing, and Institutional Investor named him the single most influential executive in online finance. He has also been named one of the "Top 15 CEOs" by Worth, "CEO of the Year" by Information Week, "Executive of the Year" by the San Francisco Business Times, and "CEO of the Year" by Morningstar.
Today, in addition to his position at HighTower, Mr. Pottruck serves on the Board of Directors of Intel Corporation and CorpU, a leading executive education company, as well as several early-stage companies.
Previous graduation speakers at Wharton's MBA for Executives graduation ceremony in Philadelphia have featured Alex Gorsky (WG'96) and Dan Tangherlini (WG'01).
Information about the Wharton School's graduation ceremony is available at: http://graduation.wharton.upenn.edu/. Information about the University of Pennsylvania's 259th commencement ceremony is available at www.upenn.edu/commencement.
About the Wharton School and the Wharton MBA Program for Executives
Founded in 1881 as the first collegiate business school, the Wharton School of the University of Pennsylvania is recognized globally for intellectual leadership and ongoing innovation across every major discipline of business education. With a broad global community and one of the most published business school faculties, Wharton creates economic and social value around the world. The School has 5,000 undergraduate, MBA, executive MBA, and doctoral students; more than 9,000 participants in executive education programs annually and a powerful alumni network of 93,000 graduates.
The Wharton MBA Program for Executives offers the same MBA degree, rigorous curriculum, top Wharton faculty and high level of students as the traditional MBA program on Wharton's main campus in Philadelphia. A residential program, students attend classes on alternate weekends and during two week-long sessions in the summer. Because Wharton students live and work together during focused on-site sessions, students have an opportunity to forge close connections with classmates as well as to foster teamwork skills. In addition, the integration of work and study provides a living laboratory for applying knowledge.