Germany is No. 1 country on overall list, followed by No. 2 Canada and No. 3 U.K.
Davos-Klosters, Switzerland – Jan. 20, 2016 – Germany is viewed as the best country in the world, according to the inaugural Best Countries report, a joint rankings and analysis project of U.S. News & World Report, WPP's BAV Consulting and the Wharton School of the University of Pennsylvania. Created to capture how nations are perceived on a global scale, the rankings are the centerpiece of a new web portal called "Best Countries," launched today at the World Economic Forum.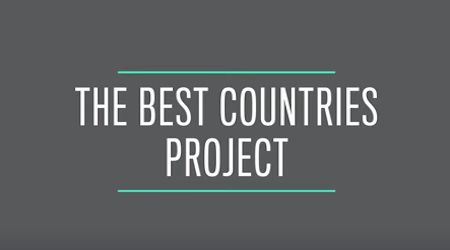 Canada and the United Kingdom are the No. 2 and No. 3 Best Overall Countries, respectively. The United States places at No. 4, followed by Sweden at No. 5. Nordic nations were highly regarded for their progressive policies and top the most rankings categories. Sweden is recognized as the most modern country, the Best Country to Raise Kids and the No. 1 nation for Green Living. Denmark is named the Best Country for Women.
"Globalization has made the world a competitive place for business, influence and the quality of life," said Mortimer B. Zuckerman, chairman and editor-in-chief of U.S. News. "Just as we have done with universities, hospitals and other institutions, our Best Countries portal will be a global homepage for stories and data to help citizens, business leaders and governments evaluate performance in a rapidly changing world."
The rankings evaluate 60 nations across 24 rankings lists on a wide range of criteria, from sustainability to economic influence. The United States is named the most powerful country and India has the No. 1 up and coming economy. Germany is the best country for entrepreneurship, while Luxembourg is the most business friendly. Italy is the country with the richest tradition and Brazil is the No. 1 nation to visit. Canada tops the list of countries with the best quality of life.
"Best Countries is a product of the most extensive data set ever collected on how nations are perceived globally," said John Gerzema, CEO of BAV Consulting. "These perceptions contribute to a greater narrative about future drivers and deterrents of economic  prosperity in nations and shape powerful brands that impact a country's bottom line."
The 2016 Best Countries methodology uses data gathered from a proprietary perception survey of more than 16,200 business leaders, informed elites and general citizens. "Our results were analyzed in correlation with the per capita gross domestic purchasing power parity of each country," said David Reibstein, professor of marketing at the Wharton School. U.S. News will regularly supplement the rankings with in-depth content, including interactive data visualization tools, original reporting, videos and op-eds from global experts in government, business and academia.
For more information about Best Countries visit www.usnews.com/news/best-countries and explore Facebook and Twitter using #BestCountries.
2016 Best Countries Rankings
*See the full rankings here
Overall
1. Germany
2. Canada
3. United Kingdom
4. United States
5. Sweden
6. Australia
7. Japan
8. France
9. Netherlands
10. Denmark
To Start a Career
1. China
2. Germany
3. United States
To Start a Business
1. Thailand
2. Malaysia
3. Philippines
To Invest In
1. India
2. Singapore
3. Vietnam
For Education
1. United Kingdom
2. Canada
3. United States
For Raising Kids
1. Sweden
2. Denmark
3. Canada
For Comfortable Retirement
1. Costa Rica
2. Ireland
3. Canada
Media Contact: Sophia Sherry, pr@usnews.com, 202-955-2031.
About U.S. News & World Report
U.S. News & World Report is a global digital news and information company that empowers people to make better, more informed decisions about important issues affecting their lives. Focusing on Education, Health, Personal Finance, Travel, Cars and News & Opinion, www.usnews.com provides consumer advice, rankings, news and analysis to serve people making complex decisions throughout all stages of life. 30 million people visit www.usnews.com each month for research and guidance. Founded in 1933, U.S. News is headquartered in Washington, D.C.
About WPP's BAV Consulting
BAV Consulting is a global strategic consultancy with expertise in corporate, brand and marketing strategies and customer insights. Using a proprietary model which leverages the BrandAsset® Valuator database, the largest and leading quantitative, empirical study of brand and consumers, to build brand development strategies for clients who will see results in consideration, usage, sales and shareholder value. Spanning 16 years, 51 countries, and over 680,000 respondents, BAV is the world's largest database of brand perceptions; containing ratings on over 43,000 brands on 72 dimensions. For more information, visit www.bavconsulting.com.
About the Wharton School
Founded in 1881 as the first collegiate business school, the Wharton School of the University of Pennsylvania is recognized globally for intellectual leadership and ongoing innovation across every major discipline of business education. With a broad global community and one of the most published business school faculties, Wharton creates economic and social value around the world. The School has 5,000 undergraduate, MBA, executive MBA, and doctoral students; more than 9,000 participants in executive education programs annually and a powerful alumni network of 94,000 graduates. For more information, visit http://seicenter.wharton.upenn.edu.