Philadelphia, PA, January 19, 2016 — The Wharton School of the University of Pennsylvania has announced it will offer two new Specializations through Coursera: a Specialization in "Entrepreneurship" and a Specialization in "Business and Financial Modeling." Wharton will now be offering four Specializations, which include 16 courses – the most Specializations of any business school on the Coursera platform.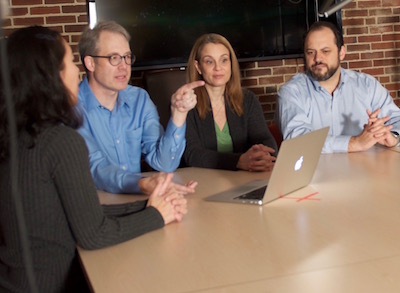 Wharton's Entrepreneurship Specialization covers key topics in the conception, design, organization, and management of new enterprises. Led by senior Wharton professors including Karl Ulrich, Lori Rosenkopf, Kartik Hosanger, David Hsu, David Bell, Laura Huang and Ethan Mollick, this four-course series is designed to take learners from opportunity identification through launch, growth, financing and profitability. Combining the expertise of Wharton's top professors with insights from current Wharton start-up founders and financiers, Wharton's Entrepreneurship Specialization gives learners the real-world knowledge they need to create and develop a new enterprise with potential for growth and funding.
Wharton's Business and Financial Modeling Specialization provides learners with the opportunity to learn core quantitative skills required to analyze data to make informed business and financial decisions. Led by senior Wharton professors including Bob Holthausen, Rick Lambert, Sergei Savin, Senthil Veeraraghavan and Richard Waterman, these foundational courses will introduce learners to spreadsheets, essential modeling techniques, and common applications so that they can use their own data to describe realities, build scenarios, and predict performance.
"We are thrilled by the response to our current Specializations, and eager to reach an even greater audience with these new offerings," said Anne Trumbore, director of Wharton Online. "Entrepreneurship and Business and Financial Modeling give learners around the globe the chance to develop business ideas, improve their circumstances, and change their lives with skills taught by the world class faculty here at Wharton."
As with the Wharton's successful "Business Foundations" and "Business Analytics" Specializations, "Entrepreneurship" and "Business and Financial Modeling" will feature Capstone Projects that allow participants to apply their knowledge to the real world. Wharton is proud to announce that both Specializations will be sponsored by Wharton Initiatives:  Wharton Entrepreneurship and Wharton Research Data Services. Learners with the top-scoring projects in the Entrepreneurship Specialization will be introduced to the most appropriate VC firms in Wharton Entrepreneurship's network, according to region and sector.
Learners in the Business and Financial Modeling Specialization will be working with datasets from WRDS, the leading data research platform and business intelligence tool for over 30,000 corporate, academic, government and nonprofit clients in 33 countries, and will receive feedback from Wharton data experts.
Additional details regarding course format and curricula of  "Entrepreneurship" and "Business and Financial Modeling" and all other Wharton Online opportunities can be found at http://online.wharton.upenn.edu.
About the Wharton School
Founded in 1881 as the first collegiate business school, the Wharton School of the University of Pennsylvania is recognized globally for intellectual leadership and ongoing innovation across every major discipline of business education. With a broad global community and one of the most published business school faculties, Wharton creates economic and social value around the world. The School has 5,000 undergraduate, MBA, executive MBA, and doctoral students; more than 9,000 participants in executive education programs annually and a powerful alumni network of 94,000 graduates.
About Coursera
Coursera partners with over 120 top universities and educational institutions to offer hundreds of online courses and Specializations in topics from computer science to social psychology and beyond. Earn certificates from prestigious learning institutions for courses and projects developed in collaboration with top employers to teach the skills you need to succeed. Whether you want to advance your career or pursue a passion, Coursera provides open online education for everyone. For more information, visit www.coursera.org.