Philadelphia, PA — The Wharton School of the University of Pennsylvania has announced that Wharton MBA alumna, Ruth Porat (WG'87), Chief Financial Officer of Alphabet, formerly Google, will be the featured speaker at the School's MBA graduation in Philadelphia.  The May 15, 2016, ceremony will take place at the Palestra, 33rd and South Streets, Philadelphia, PA.
Ms. Porat has earned a reputation marked by a stellar career in Wall Street financial services, leadership during the financial crisis of 2008 and now as a leader of Alphabet, one of the largest and most innovative companies in the world. Just months after her arrival at Google Ms. Porat helped oversee an intensive re-organization of the company, winning wide praise for instilling greater transparency for the benefit of investors.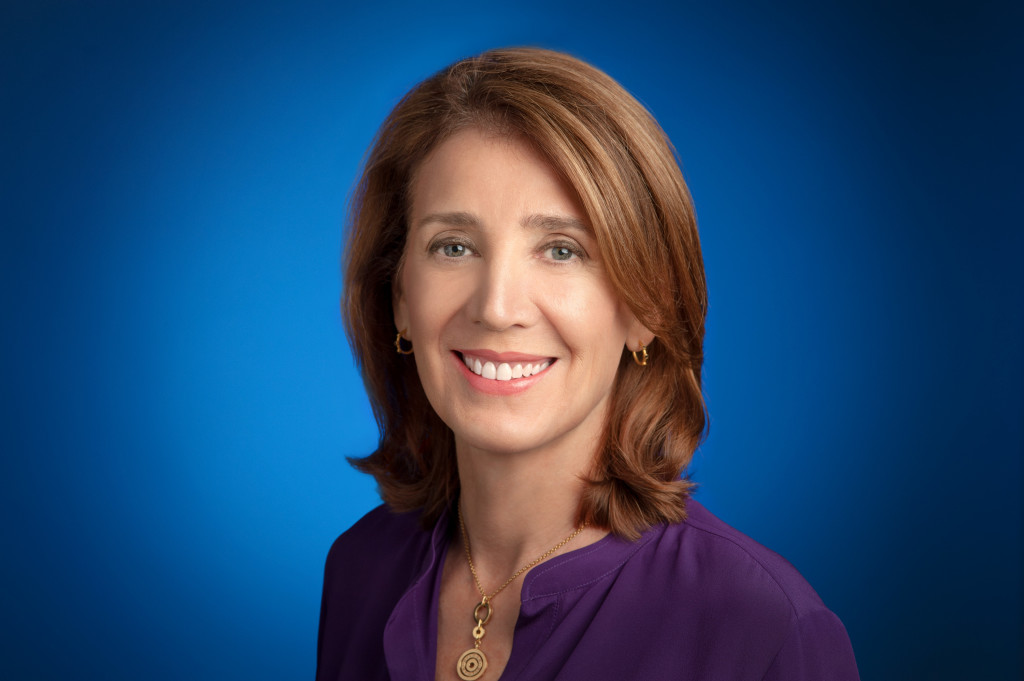 "Ruth Porat is one of the most astute, trusted and admired business leaders of her generation," said Geoff Garrett, Dean of the Wharton School.  "From her role in calming nervous global markets in 2008 to her leadership in last year's Google-Alphabet transition, Ruth's successes at the very highest levels on Wall Street and in Silicon Valley are inspirational for this year's MBA graduating class.  We are honored and privileged she will join us."
Prior to joining Alphabet (then Google) in May, 2015, Ms. Porat served as the Chief Financial Officer and Executive Vice President of Morgan Stanley, a post she assumed in 2010.  Ms. Porat was the Global Head of the Financial Institutions Group at Morgan Stanley from September 2006 to December 2009 and also served as its Vice Chairman of Investment Banking from September 2003 to December 2009 and Chairman of the Financial Sponsors Group from July 2004 to September 2006.
During the financial crisis, Ms. Porat was responsible for the Financial Sponsors Group's coverage of financial institutions and governments globally, and she led the team advising the U.S. Treasury with respect to Fannie Mae and Freddie Mac.
Ms. Porat began her career with Morgan Stanley in 1987 in the Mergers and Acquisition Department.  At Morgan Stanley she played numerous roles, including establishing the corporate finance effort covering Financial Sponsors, leading the Equity Capital Markets technology business and serving as Co-Head of the Global Technology Group. She spent a year based in London where she focused on technology and media clients and its private equity investing. She has been Vice Chairman of the Economic Club of New York since June 30, 2014.
Besides receiving her MBA from Wharton, Ms. Porat earned an MSc, Economics from the London School of Economics and a BA from Stanford University.
Previous Wharton MBA graduation speakers have included Neil Blumenthal and Dave Gilboa (both WG'10), David Rubenstein, Andrea Mitchell (CW'67), Connie Duckworth (WG'79), Robert Kapito (W'79), Lakshmi N. Mittal (PAR'96) and Muhammad Yunus (HON'09).
Information about the Wharton School's graduation ceremony is available at: http://graduation.wharton.upenn.edu/. Information about the University of Pennsylvania's 260th commencement ceremony is available at http://www.upenn.edu/commencement/.
About the Wharton School
Founded in 1881 as the first collegiate business school, the Wharton School of the University of Pennsylvania is recognized globally for intellectual leadership and ongoing innovation across every major discipline of business education. With a broad global community and one of the most published business school faculties, Wharton creates economic and social value around the world. The School has 5,000 undergraduate, MBA, executive MBA, and doctoral students; more than 9,000 participants in executive education programs annually and a powerful alumni network of 94,000 graduates.