Philadelphia, PA, March 8, 2016 — The Penn Wharton Public Policy Initiative is pleased to announce a $5 million commitment from David J. Trone, WG'85 and June Malament Trone, WG'85 which will fuel the growth of the Initiative at the Wharton School of the University of Pennsylvania. Mr. and Mrs. Trone's gift will establish the Trone Family Public Policy Initiative Fund, providing funding for research and other critical support promoting clear, fact-driven, accessible knowledge to stimulate policies that benefit the American public. The Penn Wharton Public Policy Initiative (Penn Wharton PPI) is a hub for public policy research and education with one overarching goal across its Philadelphia and Washington, D.C. offices: to leverage the University's resources to foster better-informed policymaking on issues related to business and the economy.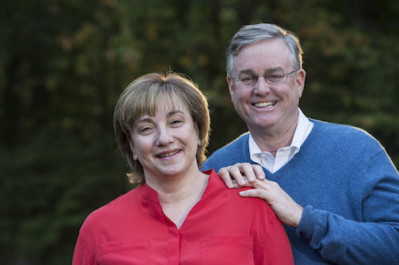 "David and June's generosity adds fantastic momentum to the Penn Wharton PPI," said Wharton Dean Geoff Garrett. "I am sincerely grateful for their philanthropy and for their partnership in this rapidly expanding and exciting initiative. Their support will benefit Wharton, Penn, and the policymaking landscape across the U.S. while growing the community of visionary donors to PPI."
Mr. and Mrs. Trone's gift builds upon the support of other leadership contributors to the Penn Wharton PPI, including Marc Rowan, W'84, WG'85 and Marc Spilker, W'86. Mr. Rowan and Mr. Spilker provided foundational funding for the Initiative, as well as resources dedicated to PPI's first signature product—a new advanced federal budget model that will offer policymakers a compelling framework for analyzing the budgetary impact of proposed legislation, and its effect on the economy. Among its many other operations and offerings, PPI provides summer internship programming for students to pursue life-changing opportunities in D.C.; a new honors certificate program for students interested in domestic public policy and the economy; and lectures featuring senators, members of Congress, and other policy leaders. The Penn Wharton PPI embodies the Wharton School's emphasis on the important applications of rigorous data and analytics in today's dynamic environment and fostering connections between the public and private sectors.
"Our family put careful thought and consideration into finding an opportunity to make a strong impact at Wharton by supporting an area of great interest to us – we're delighted to have found this in the Penn Wharton PPI," said Mr. Trone. "It's our pleasure to be able to work with the PPI, and we look forward to seeing the positive impact of the PPI on both the university's students and on advancing fact-driven policymaking in Washington, D.C."
Mr. Trone earned his bachelor's degree magna cum laude and Phi Beta Kappa from Furman University and his MBA from the Wharton School. He is the co-Owner and President of Total Wine & More, America's largest independent retailer of fine wine, which employs more than 5,000 individuals and operates over 150 superstores in 21 states. Mrs. Trone earned a degree in engineering magna cum laude from Stony Brook University, where she was inducted into Tau Beta Pi, the national honor society for engineers. Following her graduation, Mrs. Trone worked at Scott Paper Company for five years as both a process engineer and an industrial engineer. She earned her MBA from the Wharton School.
About the Wharton School
Founded in 1881 as the first collegiate business school, the Wharton School of the University of Pennsylvania is recognized globally for intellectual leadership and ongoing innovation across every major discipline of business education. With a broad global community and one of the most published business school faculties, Wharton creates economic and social value around the world. The School has 5,000 undergraduate, MBA, executive MBA, and doctoral students; more than 9,000 participants in executive education programs annually and a powerful alumni network of 94,000 graduates.