Second Prize Winner brEDcrumb Helps Underserved High Schoolers Make It to College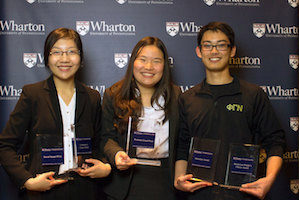 PHILADELPHIA, Pa., April 29, 2016—The Wharton School of the University of Pennsylvania announced that student team BioCellection won the $30,000 Perlman Grand Prize of the 2016 Wharton Business Plan Competition—as well as the Wharton Social Impact Prize, the Gloeckner Undergraduate Award, the Michelson People's Choice Award, and the Committee Award
for Most 'Wow Factor,' making them the first team in BPC history to win five awards. Founded by University of Pennsylvania undergraduates Miranda Wang, Alexander Simafranca, and Eric Friedman, and their teammates Jeanny Yao and Daniel Chapman, BioCellection is the first undergraduate team to win the Grand Prize. The prizes were awarded at the Wharton School's annual Venture Finals on April 28, 2016, where student finalists received more than $125,000 in combined cash prizes and in-kind legal/accounting services.
BioCellection converts unrecyclable plastics into valuable materials using genetically engineered bacteria. The company had its start four years ago, when Vancouver, BC based high school friends Miranda Wang and Jeanny Yao entered a biotechnology science competition with their proposed project on plastic biodegradation. They won a national prize, and then were invited to speak at the TED2013 conference.  In college, both Miranda and Jeanny continued to pursue relevant scientific research, and this year they decided to found BioCellection to turn their research into a startup with the potential to change the world.
The Venture Finals, which is the Wharton BPC's culminating event, attracted over 200 entrepreneurs, venture capitalists, business leaders, faculty members, alumni and students.  This year the competition had 150 venture concepts submitted, with over 350 individual participants from across six Schools at the University of Pennsylvania. While the Venture Finals judges deliberated the top three prizes, the "Great Eight" Finalist teams competed for the Michelson People's Choice Award, which allowed the audience to vote for their favorite elevator pitch. This year, for the first time, the elevator pitches were streamed live on Facebook, and the digital audience was also allowed to vote.
The 2016 Wharton Business Plan Competition winners are:
Perlman Grand Prize: $30,000 to BioCellection
Second Prize: $15,000 to brEdcrumb
Third Prize: $10,000 to WeTrain (WeTrain won the Committee Choice award at last year's Venture Finals)
Wharton Social Impact Prize: $10,000 to BioCellection
Gloeckner Undergraduate Award: $10,000 for the highest ranking undergraduate team to BioCellection
Michelson People's Choice Award: $3,000 to BioCellection
Committee Award for Best Pitch: $1,000 to Qorum
Committee Award for Best Use of Technology: $1,000 to Barn Owl
Committee Award for Most 'Wow Factor': $1,000 to BioCellection
Over the years, the Wharton Business Plan Competition, which is open to any University of Pennsylvania student and managed by Wharton Entrepreneurship, has seen numerous student teams go on to become successful businesses. Previous participants in the Competition include ventures such as eyeglass phenom Warby Parker, dominant Brazilian baby e-commerce site Baby.com.br, and drug R&D company Integral Molecular.
Venture Finals judges were:
WBPC Sponsors:
Perlman Grand Prize Sponsor: Ellen Hanson and Richard E. Perlman (W'68)
Platinum Sponsor: Gary and Alya Michelson Foundations
Gold Sponsor: Eric Aroesty (C'92)
Silver Sponsor: Safeguard Scientifics
In-kind Sponsors: Blank Rome LLP, Duane Morris LLP, GLG Share, Grant Thornton, KPMG, Morgan Lewis & Bockius LLP; WeWork
Note: WG=MBA alum; W=Undergraduate Wharton alum; PAR=Penn parent; GEN=Master's, Engineering and Applied Science; C=Undergraduate College alum
###
About the Wharton School and Wharton Entrepreneurship
In 1973, The Wharton School became the first school to develop a fully integrated curriculum of entrepreneurial studies. Today Wharton, through Wharton Entrepreneurship (http://entrepreneurship.wharton.upenn.edu/), supports and seeds innovation and entrepreneurship globally through teaching, research and outreach to a range of organizations through its many programs, initiatives and research centers. At the same time, Wharton students and alumni are helping to build entrepreneurial enterprises around the world and impacting virtually every industry. For more information on the Wharton Business Plan Competition, go to: http://bpc.wharton.upenn.edu.
The Wharton School of the University of Pennsylvania — founded in 1881 as the first collegiate business school — is recognized globally for intellectual leadership and ongoing innovation across every major discipline of business education. The most comprehensive source of business knowledge in the world, Wharton bridges research and practice through its broad engagement with the global business community. The School has 5,000 undergraduate, MBA, executive MBA, and doctoral students; more than 9,000 annual participants in executive education programs; and an alumni network of 93,000 graduates.
###
Media Contact
Peter Winicov, Director, Wharton Media Relations
215-746-6471 | winicov@wharton.upenn.edu