Philadelphia, PA, May 2, 2016 –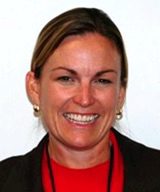 The Wharton School of the University of Pennsylvania has announced that Celeste Corrado will serve as the new Director of the Wharton Small Business Development Center (Wharton SBDC).  Corrado was appointed after an extensive search by a committee of University  of Pennsylvania, Wharton Entrepreneurship and Pennsylvania Small Business Development Center leaders.  She brings to her new role over 20 years of professional experience in consulting, innovation, strategy, and education.
"Celeste Corrado's experience managing complex and challenging projects is perfectly suited to the role of Wharton SBDC director.  We are delighted that local businesses and the Wharton student consultants assisting them will benefit from Celeste's leadership," said Karl Ulrich, Wharton Vice Dean of Entrepreneurship & Innovation.  "With Celeste's arrival the Wharton Small Business Development Center continues its work to support Penn's vision of inclusion, innovation, and impact through guiding Philadelphia area entrepreneurs and business owners to achieve their growth objectives."
Founded in 1980, the Wharton Small Business Development Center leverages the students, faculty, and staff of the Wharton School, as well as partnerships with experienced professionals and leading outside organizations, to provide courses, workshops and consulting services to hundreds of regional businesses annually. The Wharton SBDC serves the dual function of helping entrepreneurs start and grow their companies, while offering Wharton students the opportunity to apply their academic coursework to real-world entrepreneurial practice.
As Director of the Wharton SBDC, Corrado will set the strategic direction for the Center, support regional start-ups and high growth companies in their business development, manage all aspects of client recruitment, design student consultant training and education, collaborate with the Pennsylvania SBDC lead office on statewide goals, and spearhead grant administration, fundraising and regional stakeholder outreach and communication.
Prior to arriving at Wharton, Corrado ran her own consulting practice, Vizeon Solutions. Previous to Vizeon she was employed by Lockheed Martin as Senior Strategy & Innovation Lead for New Ventures where she was responsible for launching and leading a commercial venture incubator.  Corrado has also served as an instructor at George Washington University.
She holds an MBA from UCLA's Anderson School of Management and an MS in Information Systems from Drexel University.  Corrado is a Certified Management Consultant (CMC), Certified Lean Six Sigma Black Belt, and has completed HBS Executive Education courses in Strategy & Competition and Corporate Ventures.
About the Wharton School and Wharton Entrepreneurship
In 1973, The Wharton School became the first school to develop a fully integrated curriculum of entrepreneurial studies. Today Wharton, through Wharton Entrepreneurship (http://entrepreneurship.wharton.upenn.edu/), supports and seeds innovation and entrepreneurship globally through teaching, research and outreach to a range of organizations through its many programs, initiatives and research centers. At the same time, Wharton students and alumni are helping to build entrepreneurial enterprises around the world and impacting virtually every industry. For more information on the Wharton Business Plan Competition, go to: http://bpc.wharton.upenn.edu.
The Wharton School of the University of Pennsylvania — founded in 1881 as the first collegiate business school — is recognized globally for intellectual leadership and ongoing innovation across every major discipline of business education. The most comprehensive source of business knowledge in the world, Wharton bridges research and practice through its broad engagement with the global business community. The School has 5,000 undergraduate, MBA, executive MBA, and doctoral students; more than 9,000 annual participants in executive education programs; and an alumni network of 94,000 graduates.