Interactive model provides policymakers and the public with accurate, accessible and transparent economic analysis of policy ideas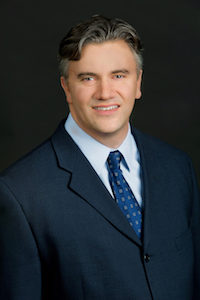 PHILADELPHIA — June 27, 2016 – The Wharton School of the University of Pennsylvania today announced the launch of the Penn Wharton Budget Model. The nonpartisan, interactive budget model is a tool available at no cost to users and is available online and from the tap of a tablet or smartphone. The Model, a tool developed through the Penn Wharton Public Policy Initiative, allows policymakers and the public to make more informed decisions and better understand the economic and fiscal implications of proposed policies.
At a time when information transparency is the new norm, the model was developed recognizing that something as important as the federal budget – which impacts our ability as a country to create jobs and prosper – should be as accessible and transparent as the other important information we consume on a daily basis.
"At Wharton, we see an opportunity to make a difference at the intersection of business and policy – to help business, legislators and the public make crucial decisions based on rigorous data rather than ideological debate," said Geoff Garrett, Dean of the Wharton School of the University of Pennsylvania. "With the accurate, accessible and transparent economic analysis of the Penn Wharton Budget Model, we're harnessing the power of information for policy impact and using our analytics expertise to fuel data-driven decision making."
The first available modules of the Penn Wharton Budget Model allow users to test policies specific to immigration and Social Security. Additional modules in development include healthcare, criminal justice, education, retirement, housing and tax reform, which will follow.
Developed by a team of former Congressional Budget Office and Treasury Department economists and leading technologists, under the leadership of Wharton Boettner Professor and Professor of Business Economics and Public Policy Kent Smetters, the budget model uses macro assumptions that take into account constant changes over time, such as demographic and economic shifts, for more accurate long-range forecasting.
"Our goal in developing the Penn Wharton Budget Model is to provide a 'sandbox' to test the economic impact of different policy ideas," said Professor Smetters, who leads the Penn Wharton Budget Model team of more than a dozen researchers, analysts and economists. "Numerous policymakers have told us that they want reliable and speedy analysis, with transparent assumptions, while legislation is being drafted."
The model's dial controls allow users to test a range of different forms of policies. For Social Security, the user can see the effects of 4,096 different policy combinations. For immigration policy, there are 125 policy combinations.
A diverse group of leading academics and other key voices are advising the Penn Wharton Budget Model team. To learn more about the Budget Model's external advisory board, please visit: http://www.budgetmodel.wharton.upenn.edu/advisory-board-external/.
View the animated video introducing the budget model:
For more information on the Penn Wharton Budget Model, please contact: Rebecca Rice (Rebecca.Rice@edelman.com) or Peter Winicov (winicov@wharton.upenn.edu).
About the Wharton School of the University of Pennsylvania
Founded in 1881 as the first collegiate business school, the Wharton School of the University of Pennsylvania is recognized globally for intellectual leadership and ongoing innovation across every major discipline of business education. With a broad global community and one of the most published business school faculties, Wharton creates economic and social value around the world. The School has 5,000 undergraduate, MBA, executive MBA, and doctoral students; more than 9,000 participants in executive education programs annually and a powerful alumni network of 94,000 graduates.
 ###