Finalists to defend papers in front of panel of finance leaders from BlackRock and academia

New York – November 30, 2016 – BlackRock, Inc. (NYSE: BLK) is pleased to announce the finalists for the 2016 BlackRock Applied Research Award which recognizes the top job market paper submitted by PhD candidates on a practical topic pertaining to financial markets, economics, investment management or risk management.  Each finalist will meet with a jury panel to defend their job market paper at BlackRock's New York office on November 30, 2016. The winner will be announced at the end of that day and will be awarded $25,000 by BlackRock.
Finalists were selected by BlackRock's Applied Research Award Committee which consists of a panel of finance leaders from BlackRock and academia. The submitted papers were assessed on a number of criterion, including the demonstration of thought leadership, a focus on a practical problem of relevance, the use of advanced quantitative techniques, the analysis of an interesting new data set and the offering of a practical solution.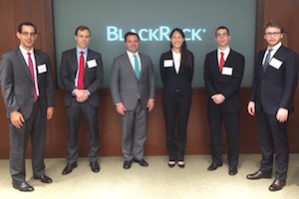 The five finalists in the 2016 BlackRock Applied Research Award are:
• Adrien d'Avernas, Department of Economics, UCLA Anderson, University of California, Los Angeles (http://www.adriendavernas.com/)
• Eric Moore, Department of Economics, The Wharton School, University of Pennsylvania (https://bepp.wharton.upenn.edu/profile/1738/)
• Pablo Slutzky, Department of Finance and Economics, Columbia Business School, Columbia University (http://www8.gsb.columbia.edu/cbs-directory/phd/PSlutzky17)
• Tarik Umar, Department of Finance, Booth School of Business, University of Chicago (http://home.uchicago.edu/~umar/)
• Katherine Waldock, Department of Finance, Stern School of Business, New York University (https://sites.google.com/a/stern.nyu.edu/kwaldock/ )
The 2016 BlackRock Applied Research Award jury panel includes:
• Andrew Ang, Managing Director, Head of Factor Investing Strategies at BlackRock
• Andrea Eisfeldt, Laurence D. and Lori W. Fink Endowed Chair in Finance and Professor of Finance, UCLA Anderson (http://www.anderson.ucla.edu/faculty/finance/faculty/eisfeldt)
• Robert Engel, Michael Armellino Professor of Management and Financial Services, New York University Stern School of Business (http://www.stern.nyu.edu/faculty/bio/robert-engle)
• Ronald Kahn, Managing Director, Global Head of Scientific Equity Research at BlackRock
• Leonid Kogan, Nippon Telegraph and Telephone Professor of Management and Professor of Finance, MIT Sloan School of Management; Research Associate at the National Bureau of Economic Research (http://web.mit.edu/lkogan2/www/)
Since BlackRock's founding in 1988, the firm has developed and implemented state-of-the-practice investment and risk models in partnership with portfolio and risk managers and, through BlackRock Solutions, with external clients that leverage our Aladdin system.  The second annual BlackRock Applied Research Award is a continuation of the firm's efforts to foster financial innovation and connectivity with the academic community
About BlackRock
BlackRock is a global leader in investment management, risk management and advisory services for institutional and retail clients.  At September 30, 2016, BlackRock's AUM was $5.1 trillion. BlackRock helps clients around the world meet their goals and overcome challenges with a range of products that include separate accounts, mutual funds, iShares® (exchange-traded funds), and other pooled investment vehicles.  BlackRock also offers risk management, advisory and enterprise investment system services to a broad base of institutional investors through BlackRock Solutions®.  As of September 30, 2016, the firm had approximately 13,000 employees in 30 countries and a major presence in global markets, including North and South America, Europe, Asia, Australia and the Middle East and Africa. For additional information, please visit the Company's website at www.blackrock.com | Twitter: @blackrock_news | Blog: www.blackrockblog.com | LinkedIn: www.linkedin.com/company/blackrock