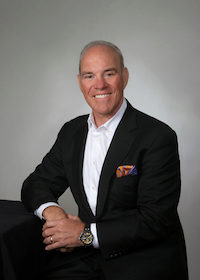 PHILADELPHIA – March 7, 2017 – The University of Pennsylvania is delighted to announce a $1 million commitment from David S. Pottruck C'70, WG'72, to establish the Penn Athletics Wharton Leadership Academy. This innovative new program — a partnership between the athletics department and the Anne and John McNulty Leadership Program at the Wharton School — was conceived by Pottruck to foster the leadership abilities of Penn student-athletes. In addition, Kindred Healthcare and CEO Benjamin Breier C'93 W'93, a former baseball student-athlete at Penn, made a $500,000 gift to support the Leadership Academy. Breier has also been a key supporter of the Academy's launch.
"Dave Pottruck has continued his extraordinary record of philanthropy toward Penn by envisioning and funding this innovative program," President Amy Gutmann said. "The Leadership Academy will enable generations of talented student-athletes to build on the outstanding leadership skills they've acquired at Penn, both academically and athletically, expanding the ways they can have a positive impact on the world."
"What Dave Pottruck has identified so successfully with this program is that the culture of leadership that is inherent in a competitive team setting provides an excellent 'laboratory' for training future leaders," said Jeff Klein, Executive Director of the McNulty Program. "His gift enables us to adapt our integrated, experiential approach to leadership development, extending the work we have done with students, managers, and executives at all levels to now include scholar-athletes."
The Leadership Academy program is a capstone of sorts for Pottruck, a storied business leader who is keenly aware of the unique abilities such a career requires.  After many years as a CEO of Charles Schwab, he is now Chairman of HighTower Advisors, a wealth management firm he launched with other investors in 2008. In addition, he is the author of such bestselling business books as Stacking the Deck and has taught a popular course on "Leading Transformational Change" at Wharton for a decade.
This latest in Pottruck's long line of generous gifts to his alma mater reflects his deep commitment to Penn Athletics and Wharton. "My years in business have repeatedly demonstrated to me how important it is to develop future leaders," Pottruck said.  "Leadership is a quality that can, and should, be taught. The combined stamina, discipline, and team spirit that Penn's athletes show so consistently demonstrates their enormous potential as world leaders. The Leadership Academy program will help them move seamlessly and successfully into the future." Once a standout student-athlete himself, in both wrestling and football, Pottruck has long credited his experiences at Wharton and on Quaker athletic teams as key factors in his success.
The Wharton School continues to set the global standard in business education.  The combination of Division I athletics with the nation's first and pre-eminent school of business is unique to the collegiate athletics landscape and differentiates Penn from its Ivy League and national peers in providing a world-class student-athlete experience.
The Academy's curriculum will include lectures, workshops, experiential sessions, and more, generated through the collaboration of the athletics department and Wharton. Initial plans call for enrolling all incoming freshmen student-athletes in the program. After freshman year, student-athletes will continue based upon their interest and demonstrated leadership potential. Team captains and coaches will also participate in leadership development, creating a culture where student-athletes and staff members share a common vocabulary and work symbiotically toward a common objective, in competition and beyond.
At the end of the four-year cycle, a dozen senior scholar-athletes who have distinguished themselves as leaders in the Leadership Academy will be named Pottruck Fellows. Upon receiving this honor, members of this fellowship program — "the best of the best," in Dave's words — will commit themselves to mentoring Academy participants over the next three years.
"The construct and purpose of the Pottruck Fellows program is the perfect marriage of Mr. Pottruck's passions and the values of Penn Athletics," Dr. Grace Calhoun, Director of Athletics and Recreation, points out.
And this winning combination will continue. Both Pottruck and Breier plan to continue their fruitful, ongoing involvement with the Academy, working closely with leaders from Penn Athletics and Wharton to ensure their continued success.
#     #     #     #