Position encompasses finance, human resources, facilities management and School strategy
Philadelphia, PA, March 8, 2017 — Geoffrey Garrett, dean of the Wharton School of the University of Pennsylvania, has announced that Harlan Sands has joined the School as Vice Dean of Finance and Administration, Chief Financial Officer and Chief Administrative Officer.  Sands, who received his undergraduate degree from Wharton, will lead all finance and administrative functions including Facilities and Operations; Wharton Computing; Human Resources; and WRDS (Wharton Research Data Services).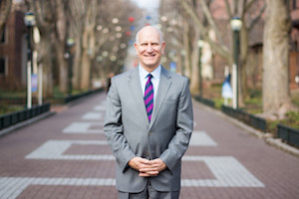 He will work collaboratively across the University representing the School with Penn executive and financial leadership and will support Wharton's Executive Boards of volunteer leaders in the formulation and execution of the School's strategic priorities.
"I am extremely happy to welcome Harlan back to his alma mater. His outstanding expertise, experience and leadership will be a great asset to all Wharton does," said Dean Garrett.
Sands previously served as Senior Vice President, Finance and Administration, Chief Financial Officer/Chief Operating Officer at the University of Louisville.  He was responsible for University-wide, day-to-day functions related to financial affairs, business affairs, human resources, information technology, internal audit/institutional compliance, and other campus operations.
Prior to his position at Louisville, Harlan was Vice Provost for Administration and Quality Improvement at the University of Alabama at Birmingham. There, Harlan served as the senior operations administrator for the Provost.  His responsibilities included budget and finance, enrollment management, and student support operations. He also spent eight years at Florida International University as an Associate Vice President for Research/Research Center Executive Director, Associate Dean of the College of Health and Urban Affairs and faculty member/lecturer in the Department of Criminal Justice.
Sands has over ten years of military service including positions as a Naval Reserve Intelligence Manager and Special Assistant to the Director of Naval Intelligence for Technology.  He received two Naval Commendation Medals during Operation Desert Storm and a Coast Guard Meritorious Unit Commendation for the Space Shuttle Challenger recovery.  Harlan has also served as an assistant public defender in Miami.
Besides his Wharton undergraduate degree, Harlan holds a J.D. from George Mason University and an MBA with a major in finance from George Washington University.
About the Wharton School
Founded in 1881 as the first collegiate business school, the Wharton School of the University of Pennsylvania is recognized globally for intellectual leadership and ongoing innovation across every major discipline of business education. With a broad global community and one of the most published business school faculties, Wharton creates economic and social value around the world. The School has 5,000 undergraduate, MBA, executive MBA, and doctoral students; more than 9,000 participants in executive education programs annually and a powerful alumni network of 95,000 graduates.