Startup Showcase A Huge Success, Featuring Startups From Across Penn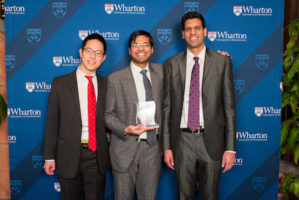 PHILADELPHIA, PA, April 30, 2018—Penn Wharton Entrepreneurship is pleased to announce the winner of the second annual Startup Challenge, sponsored by Eric Aroesty, C'92: Sanguis, founded by Divyansh Agarwal, GR'23, M'23, Prateek Agarwal, M'19, WG'20, and Daniel Zhang, GR'23, M'23. The Showcase took place on April 27 on the University of Pennsylvania campus. Sanguis has developed the world's first hand-held, portable, and inexpensive blood cell counting device, allowing patients to monitor their health during chemotherapy treatment and detect life-threatening conditions.
Founded by three best friends who met on their first day of medical school at Penn, Sanguis is rooted in making the world a better place and saving lives. The medical device they created measures neutrophil levels—the body's primary infection fighting cells. When neutrophil counts go down, the body loses its ability to fight infections. With Sanguis, patients can easily test their neutrophil levels at home and contact their doctors right away.
Nearly 15,000 chemotherapy patients die each year from infections and other complications that rush in when the body is unable to defend itself, and Sanguis aims to reduce that number drastically. Prior to winning the Perlman Grand Prize, Sanguis was a member of VIP-Xcelerate, Penn Wharton Entrepreneurship's three-month accelerator program for the most advanced startups, and recipients of the Penn Wharton Innovation Fund.
Sanguis was chosen at the Startup Showcase, the biggest entrepreneurship event of the year at the University of Pennsylvania, showcasing the best student-founded startups from across the University. Eight Finalist teams in the Startup Challenge were chosen that morning from 27 Semifinalists, after pitching in closed-room sessions to panels of alumni entrepreneurs and investors. The Finalists pitched to a live audience and a panel of judges for over $135,000 in cash and prizes to help them launch their startups.
The Startup Showcase was a triumphant finish to an exciting year of entrepreneurship at Penn and the Wharton School. Students across the University are founding fast-growing companies, and the resources available at Penn and in Philadelphia continue to expand. Penn Wharton Entrepreneurship is proud to be a leader in entrepreneurship education.
In addition to the Finals of the Startup Challenge, the Showcase offered a room full of the best student ventures from across Penn the opportunity to demo their companies for accomplished alumni and interested members of the public. The in-elevator elevator pitches were again a huge favorite, as student entrepreneurs gave short pitches to investors in an actual elevator. Attendees voted for their favorite Showcase venture in the Crowd Favorite Award, and the eight Finalists gave additional short pitches to both a live and virtual audience, competing for the Michelson People's Choice Award.
The 2018 Startup Challenge winners are:
Perlman Grand Prize: $30,000 + $15,000 in legal, accounting, & strategy services to Sanguis
Second Prize: $15,000 + $15,000 in legal, accounting, & strategy services to MD Ally
Third Prize: $10,000 + $15,000 in legal, accounting, & strategy services to Avisi Technologies
Frederick H. Gloeckner Award for Best Undergraduate Team: $10,000 to Avisi Technologies
Social Impact Prize: $10,000 to Strella Biotechnology
Innovation Award: $10,000 to MD Ally
Michelson People's Choice Award: $3,000 to Strella Biotechnology
Crowd Favorite Award: $2,000 to Strella Biotechnology
Previous participants in Wharton's startup competition include entrepreneurs such as the founders of mission-driven outdoor adventure apparel maker Cotopaxi, innovative startup investment VC firm FundersClub, and pet insurance company PetPlan.
The Startup Challenge Finals judges were:
Startup Challenge & Showcase Sponsors:
Note on abbreviations:
W-Wharton undergraduate alum
C-Penn College of Arts & Sciences alum
M-Penn Medicine
GR-Doctorate (ex. GR'23, M'23 indicates Doctor of Science in Medicine expected 2023)
WG-Wharton MBA alum
PAR-Penn parent
About Penn Wharton Entrepreneurship
Penn Wharton Entrepreneurship is a resource for students across the University of Pennsylvania who are interested in entrepreneurship and innovation. The program maximizes the ability of students and alumni to address important challenges through entrepreneurship and entrepreneurial thinking. With 24 team members on two coasts, Penn Wharton Entrepreneurship awards over $600,000 to entrepreneurial students every year, engages with over 100 startups each year in the Venture Initiation Program, and offers more than 50 entrepreneurial courses.
About the Wharton School
Founded in 1881 as the first collegiate business school, the Wharton School of the University of Pennsylvania is recognized globally for intellectual leadership and ongoing innovation across every major discipline of business education. With a broad global community and one of the most published business school faculties, Wharton creates economic and social value around the world. The School has 5,000 undergraduate, MBA, executive MBA, and doctoral students; more than 9,000 participants in executive education programs annually and a powerful alumni network of 96,000 graduates.
###