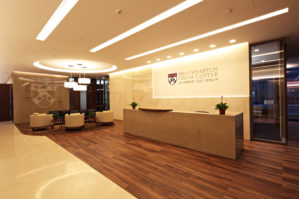 Philadelphia, PA; Beijing, China: With the U.S. – China relationship top of mind among business leaders worldwide, the Penn Wharton China Center is launching three timely new conferences for executives in Beijing with support from the Wharton School of the University of Pennsylvania.
Presented by renowned Wharton experts, the three highly interactive conferences focusing onenture capital, private equity, and pricing strategies offer executives from the region cutting-edge financial insight to enhance their global leadership capabilities and business acumen as they navigate a turbulent global market.
"China and the U.S. are very different countries. But that creates great opportunities to take advantage of complementarities between the world's two biggest and most tightly interdependent economies," observed Dean of the Wharton School Geoffrey Garrett. "Wharton is very well positioned to give executives in China the opportunity to not only discuss cutting-edge business skills but also gain insights into the trajectory of the American and global economies—helping propel the Chinese economy to even greater heights."
These latest executive conferences—an integral component of the Wharton School's activity as the premier innovator in global business knowledge—will benefit China's business leaders as they continue to grow in the world market.
Presented by Private Equity Professor Bilge Yilmaz, Adjunct Professor of Finance David Wessels, and Lecturer Vinay Nair, "Venture Capital" explores the strategies that top venture capitalists use to source, screen, and value superior investments. The conference also discusses approaches to critical due diligence that can uncover pitfalls and mitigate deal risk.
"Private Equity: Investing and Creating Value" shares insight into the strategies that highly successful private equity firms use to structure and finance deals, and create value for their investors. Led by Yilmaz, Nair, and Associate Professor Bülent Gültekin, conference attendees will explore the key drivers in private equity and gain a better understanding of the skills critical to evaluating investment opportunities.
"Pricing Strategies: Measuring, Capturing, and Retaining Value" presents new approaches to the pricing process. Marketing Professor and Vice Dean Jagmohan Raju and Penn Wharton China Center Director John Zhang will discuss processes for developing strategies that leverage analytics and customer data to create maximum value and increase their firm's bottom line results.
"The Penn Wharton China Center has enabled Penn and Wharton faculty and students to spend more time in China and to boost ties with leading Chinese partner institutions in this vibrant and growing powerhouse economy," said Zhang. "With the addition of these new conferences, we are excited to share our highly relevant expertise with players in one of the world's biggest economies."
"The latest conferences offered by the Penn Wharton China Center leverage the expertise of both China and Wharton, two world leaders in finance, technology, and innovation" noted Dean Garrett. "The Penn Wharton China Center further enhances Wharton's position as a global thought leader that connects current and future business leaders across public and private sectors in China. The university has also been an invaluable resource available to the nearly 1,800 Wharton alumni living in China, and 10,000 Penn alumni currently living in Asia."
For more information about these executive conferences, including dates, visit:
https://pwcc-exec.wharton.upenn.edu/
ABOUT THE PENN WHARTON CHINA CENTER
Opened in 2015, the Penn Wharton China Center (PWCC) represents the Wharton School and the University of Pennsylvania's substantial commitment to advance their long history of engagement with China.
The PWCC provides support for the initiatives and collaborations between Penn's 12 schools and many academic, government, and business partners throughout China. The PWCC enables Penn and Wharton to facilitate research, enhance alumni and client connections, and share Wharton's impact upon business practices in China and around the world. 
ABOUT THE WHARTON SCHOOL
Founded in 1881 as the first collegiate business school, the Wharton School of the University of Pennsylvania is recognized globally for intellectual leadership and ongoing innovation across every major discipline of business education. With a broad global community and one of the most published business school faculties, Wharton creates economic and social value around the world. The School has 5,000 undergraduate, MBA, executive MBA, and doctoral students; more than 9,000 participants in executive education programs annually and a powerful alumni network of 96,000 graduates.
###