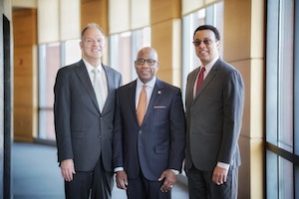 Philadelphia, PA and Baltimore, MD, April 20, 2018 — The Wharton School of the University of Pennsylvania announces that it has entered into a collaboration with Morgan State University's Earl G. Graves School of Business and Management focused on faculty and student academic programs.  This is the first collaboration of its kind between the Wharton School and a Historically Black College and University (HBCU).  The collaboration represents a key element in the missions of both schools in building academic excellence through diversity while addressing challenges in communities at home and around the world.
Areas that will be explored include shared opportunities for faculty and students in conferences, curricular development, and research.
"We are proud to collaborate with the Graves School at Morgan State University, one of the country's leading HBCUs," said Wharton Dean Geoff Garrett. "Wharton and Graves share a vision for true collaboration and sharing of expertise on both our home campuses as well as globally.  I'm excited at the potential for this relationship to create numerous curricular and research learning opportunities for Wharton faculty, students and our entire community."
"Morgan's continued growth is strengthened by successful collaborations and having opportunities to enter into mutually beneficial agreements like what we have been able to establish between the Wharton School and our Earl G. Graves School of Business and Management," said David Wilson, President of Morgan State University. "This unique collaboration between an Ivy League institution and a Historically Black College and/or University will serve as a blueprint, creating innovative educational opportunities for students and faculty, spurring academic research. We look forward to growing this relationship and seeing it remain fruitful in the years to come."
Housed within the $79-million state-of-the-art Morgan Business Center, The Graves School, named in honor of Morgan State alumnus Earl Gilbert Graves Sr., an entrepreneur and publisher who founded Black Enterprise magazine, offers high-quality accredited undergraduate, masters and doctoral programs that prepare a diverse student population to succeed as business professionals and to become engaged citizens. Founded in 1937 and later formed into a School in 1975, The Graves School graduates the most African American business students in the state of Maryland.
About the Wharton School
Founded in 1881 as the first collegiate business school, the Wharton School of the University of Pennsylvania is recognized globally for intellectual leadership and ongoing innovation across every major discipline of business education. With a broad global community and one of the most published business school faculties, Wharton creates economic and social value around the world. The School has 5,000 undergraduate, MBA, executive MBA, and doctoral students; more than 9,000 participants in executive education programs annually and a powerful alumni network of 96,000 graduates.
About Morgan State University
Morgan State University, founded in 1867, is a Carnegie-classified doctoral research institution offering more than 100 academic programs leading to degrees from the baccalaureate to the doctorate. As Maryland's Preeminent Public Urban Research University, Morgan serves a multiethnic and multiracial student body and seeks to ensure that the doors of higher education are opened as wide as possible to as many as possible. For more information about Morgan State University, visit www.morgan.edu.