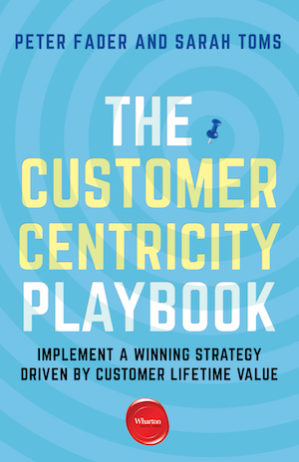 Peter Fader and Sarah Toms' new book, THE CUSTOMER CENTRICITY PLAYBOOK, offers an insider's guide to creating and implementing a winning strategy to acquire, develop, and retain customers for the greatest value.
PHILADELPHIA, October 29, 2018 — How did global gaming company Electronic Arts go from being named "Worst Company in America" to clearing a billion dollars in profit? How did Amazon become the retail titan it is today? And how did Best Buy transform itself in recent years into a customer-centric success story?
Each organization discovered a simple truth—and acted on it: Not all customers are the same, regardless of how they appear on the surface. The most successful companies understand their best customers are their most valuable asset, and they tailor their acquisition, development, and retention efforts to those customers.
In THE CUSTOMER CENTRICITY PLAYBOOK, Wharton School professor Peter Fader and Wharton Interactive's executive director Sarah Toms help you see your customers as individuals rather than a monolith, so you can stop wasting resources by chasing down product sales to each and every consumer.
Fader and Toms offer a 360-degree analysis of all the elements that support customer centricity within an organization. In this book, you will learn how to:
Develop a customer-centric strategy for your organization
Understand the right way to think about customer lifetime value (CLV)
Finetune investments in customer acquisition, retention, and development tactics based on customer heterogeneity
Foster a culture that sustains customer centricity, and also understand the link between CLV and market valuation
Understand customer relationship management (CRM) systems, as they are a vital underpinning for all these areas through the valuable insights they provide
Fader's first book, CUSTOMER CENTRICITY, quickly became a go-to for readers interested in focusing on the right customers for strategic advantage. In this new book, Fader and Toms offer a true playbook for companies of all sizes that want to create and implement a winning strategy to acquire, develop, and retain customers for the greatest value.
With THE CUSTOMER CENTRICITY PLAYBOOK, you can make 2019 the year you go customer centric.
###
ABOUT THE AUTHORS
PETER FADER is the Frances and Pei-Yuan Chia Professor of Marketing at The Wharton School of the University of Pennsylvania. In 2015, Fader co-founded Zodiac, a predictive analytics firm that was acquired by Nike in 2018. More recently, he co-founded Theta Equity Partners, which focuses on customer-based corporate valuation. Fader is also the author of Customer Centricity: Focus on the Right Customers for Strategic Advantage.
SARAH E. TOMS is executive director and co-founder of Wharton Interactive. She has spent more than twenty years as a leader in the technology sphere, and was an entrepreneur for more than a decade, founding companies that built global CRM, product development, productivity management, and financial systems.
###
"An authoritative introduction to customer-centric business strategies."
—Kirkus Reviews
"A must-read."
—Aimee Johnson, Senior Vice President, Digital Customer Experience, Starbucks
"THE CUSTOMER CENTRICITY PLAYBOOK offers fundamental insights to point organizations of any size in the right direction."
—Rob Markey, Partner, Bain & Company, Inc., and coauthor, The Ultimate Question 2.0
"Required reading for leadership teams, as well as marketing and sales executives."
—Matthew Derella, Global Vice President, Revenue and Content Partnerships, Twitter
"If you struggle with customer engagement or are ready to better acquaint yourself with your customers, Peter Fader and Sarah Toms' new book THE CUSTOMER CENTRICITY PLAYBOOK is a must-read."
—Jacqueline Parkes, Chief Marketing Officer and EVP, Digital Studios, MTV, VH1 & Logo
"Peter Fader and Sarah Toms offer transformative insights that light the path for business leaders."
—Susan Johnson, Chief Marketing Officer, SunTrust Banks
"Essential reading for those who aspire to market leadership, regardless of industry."
—Joshua Kanter, Chief Marketing Officer, PetSmart
"I read THE CUSTOMER CENTRICITY PLAYBOOK by Peter Fader and Sarah Toms in a single sitting."
—Robbie Kellman Baxter, Consultant, Peninsula Strategies, and Author, The Membership Economy
###
ABOUT WHARTON DIGITAL PRESS
Wharton Digital Press was established to inspire bold, insightful thinking within the global business community. In the tradition of The Wharton School of the University of Pennsylvania and its online business journal, Knowledge@Wharton, Wharton Digital Press uses innovative digital technologies to help managers meet the challenges of today and tomorrow.
As an entrepreneurial publisher, Wharton Digital Press delivers relevant, accessible, conceptually sound, and empirically based business knowledge to readers wherever and whenever they need it. Its format ranges from ebooks to print books available through print-on-demand technology. Directed to a general business audience, the Press's areas of interest include management and strategy, innovation and entrepreneurship, finance and investment, leadership, marketing, operations, human resources, social responsibility, and business–government relations.
ABOUT THE WHARTON SCHOOL
Founded in 1881 as the first collegiate business school, the Wharton School of the University of Pennsylvania is recognized globally for intellectual leadership and ongoing innovation across every major discipline of business education. With a broad global community and one of the most published business school faculties, Wharton creates economic and social value around the world. The Wharton School has 5,000 undergraduate, MBA, executive MBA, and doctoral students; more than 13,000 participants in executive education programs annually and a powerful alumni network of 98,000 graduates.
###
THE CUSTOMER CENTRICITY PLAYBOOK
Implement a Winning Strategy Driven by Customer Lifetime Value
By PETER FADER AND SARAH TOMS
On Sale: October 30, 2018
Wharton Digital Press
Format: Paperback, $17.99 | ISBN: 978-1-61363-090-7
Format: Ebook, $14.99 | ISBN: 978-1-61363-091-4