Wharton Dean Geoffrey Garrett and Penn President Amy Gutmann to open conference that explores global business challenges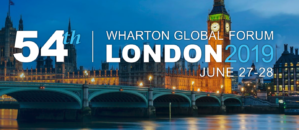 What: The 54th Wharton Global Forum London will bring together hundreds of leaders in business and government along with Wharton School and University of Pennsylvania professors and alumni to explore the most critical issues facing global business. The business conference will feature faculty lectures, roundtable discussions and candid remarks by the world's most exciting entrepreneurs, trailblazing investors and industry experts.
Speakers will share their deep expertise and insider perspectives, while examining the biggest disruptors and innovations that are driving the future of business. Participants will learn best practices and interact with the most experienced minds in global business via engaging keynotes, panel discussions, A-list networking events and master classes taught by Wharton's renowned faculty.
Who: Global Forum London featured speakers include:
Amy Gutmann, President, University of Pennsylvania
Geoffrey Garrett, Dean, the Wharton School
Mohamed El-Erian, Chief Economic Advisor, Allianz
Aditya Mittal, President and CFO, ArcelorMittal
Marisa Drew, CEO, Impact Advisory and Finance Department, Credit Suisse
Will Shu, Co-Founder and CEO, Deliveroo
Wharton/Penn faculty including Jeremy Siegel, Eric Bradlow, Mauro Guillen, Gad Allon, Lori Rosenkopf, Katy Milkman, Vijay Kumar and Angela Duckworth
Additional alumni, faculty and guests from the Bill & Melinda Gates Foundation, Citymapper, Goldman Sachs, Ripple and more
Where: JW Marriott Grosvenor House, 86-90 Park Lane, Mayfair, London W1K 7TN, UK
When: Media are invited to arrive at 11:00 a.m. for on-the-record presentations that begin at 11:15 a.m.
View the complete Global Forum London event schedule; events between 11:15 a.m. and 5:45 p.m. on June 28 are open to the media
RSVP: Registration is required. Journalists should contact Wharton Media Relations at +1-215-898-8036 or communications@wharton.upenn.edu to register for the event and to coordinate any interview requests.
Registration for alumni and the public is available here: Global Forum Registration.
About the Wharton School
Founded in 1881 as the world's first collegiate business school, the Wharton School of the University of Pennsylvania is shaping the future of business by incubating ideas, driving insights, and creating leaders who change the world. With a faculty of more than 235 renowned professors, Wharton has 5,000 undergraduate, MBA, executive MBA, and doctoral students. Each year 18,000 professionals from around the world advance their careers through Wharton Executive Education's individual, company-customized, and online programs. More than 98,000 Wharton alumni form a powerful global network of leaders who transform business every day. For more information, visit www.wharton.upenn.edu.