2019 Startup Showcase Awarded $135,000 in Prizes to Student-Led Ventures from across Penn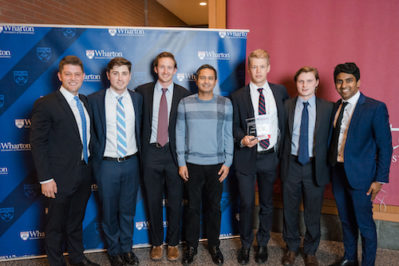 PHILADELPHIA, May 6, 2019 – Penn Wharton Entrepreneurship is pleased to announce the winner of the third annual Startup Challenge, sponsored by Eric Aroesty, C'92: Aerate, founded by six Wharton and Penn Engineering undergraduate students. The Showcase was held on May 3, 2019, at the Wharton School on the University of Pennsylvania campus. Aerate's novel, patent pending air conditioner functions as a dehumidifier and air cooler up to 20x more efficient than others in the market. Specifically designed for high humidity environments, Aerate plans to bring this climate-friendly product to the Indian market to combat the growing need for cool air.
Aerate predicts that by 2050, the global population will purchase 3.3 billion new air conditioners. In India, the need is greater than ever, and many expect the country to become the world's top user of electricity for cooling. CFO and co-founder Ashwin Kishen ENG'19, W'19, GEN'20, was always jarred by the heat when visiting relatives in India. This experience resonated with Kishen and it fueled his entrepreneurial drive at Penn. Along with Kishen, Aerate's founders include Spencer Collins, ENG'19, GEN'19; Jake Fine, ENG'19, GEN'19; Yann Pfitzer, ENG'19, C'19, GEN'20; Connor Sendel, ENG'19, W'19; and Sam Weintraub, ENG'19, GEN'20. Together, they developed their concept while enrolled in Penn's Mechanical Engineering and Applied Mechanics program, focusing on technology that could tackle climate change. Aerate also recently won the 2019 Pennvention competition held by Weiss Tech House.
The Startup Showcase is the biggest entrepreneurship event of the year at the University of Pennsylvania, showcasing the best and brightest student minds and their ventures. The Eight Finalist teams were selected that morning from nearly 30 Semifinalist teams, after a morning of intense, closed-door pitches to panels of alumni entrepreneurs and investors. The Finalists would go on to pitch in front of a live audience and a panel of judges, competing for over $135,000 in cash and prizes to launch their startups.
The Startup Showcase marks an exciting finish to another hallmark year of entrepreneurship across the Penn community. Students engaged in entrepreneurial programs are founding rapidly-scaling companies while the resources available within Penn and the Philadelphia ecosystem continue to grow. Most recently, Penn unveiled plans for Tangen Hall, the University's first dedicated space for cross-campus entrepreneurship and innovation activity. Penn Wharton Entrepreneurship is proud to continue to be a leader in entrepreneurship education.
In addition to the Startup Challenge, the Showcase featured a room full of incredible student-led ventures, giving them the opportunity to demo their companies for accomplished alumni and the general public. The elevator pitches attracted students from all educational backgrounds, from those with budding ideas to those with fully-developed companies, to pitch investors in a real elevator. Attendees voted for their favorite venture and the Eight Finalists gave rapid-fire pitches to both live and virtual audiences, competing for the People's Choice Award.
The 2019 Startup Challenges winners are:
Perlman Grand Prize: $30,000 + $15,000 in legal, accounting and strategy services to Aerate
Runner-up: $15,000 + $15,000 in legal, accounting, and strategy services to Strella Biotechnology
Innovation Award: $10,000 + $15,000 in legal, accounting, and strategy services to Minimize
Launch Prize: $10,000 + $15,000 in legal, accounting, and strategy services to Halo
Frederick H. Gloeckner Award for Best Undergraduate Team: $10,000 to Aerate
Robert S. Blank New Venture Collaboration Award: $10,000 to Aerate
Social Impact Prize: $10,000 to Text-911
People's Choice Award: $3,000 to Aerate
Crowd Favorite Award: $2,000 to Boost Scooters
Previous participants of the Startup Challenge and Showcase include successful startups like Harper Wilde, NeuroFlow, Sanguis, and Twine, which have received millions in venture funding.
Startup Challenge Finals judges were:
Startup Challenge & Showcase Sponsors:
Note on abbreviations:
C-Penn College of Arts & Sciences alum (bachelor's)
ENG-Engineering (bachelor's)
G-Penn College of Arts & Sciences (master's)
GEN-Engineering (master's)
GRW-Wharton doctoral alum
W-Wharton undergraduate alum
WG-Wharton MBA alum
About Penn Wharton Entrepreneurship
Penn Wharton Entrepreneurship (PWE) is a resource for students across the University of Pennsylvania who are interested in entrepreneurship and innovation. In a rapidly-evolving world, hungry for impactful change, Penn Wharton Entrepreneurship maximizes the ability of the students and alumni to address challenges through entrepreneurship and innovation. Our far-reaching programs impact students across the Penn community, offering educational programming and granting hundreds of thousands of dollars to students developing innovative concepts and engaging them at each step of their entrepreneurial journey. Each year, more than 2,000 students, alumni, faculty, and staff attend and participate in workshops, networking events, mentoring, and competitions led by PWE. Penn Wharton Entrepreneurship's disciplined approach challenges concepts, focuses ideas, and provides the knowledge to turn nascent ventures into robust, enduring organizations. For more information, visit www.entrepreneurship.wharton.upenn.edu.
About the Wharton School
Founded in 1881 as the first collegiate business school, the Wharton School of the University of Pennsylvania is shaping the future of business by incubating ideas, driving insights, and creating leaders who change the world. With a faculty of more than 235 renowned professors, Wharton has 5,000 undergraduate, MBA, executive MBA, and doctoral students. Each year, 18,000 professionals from around the world advance their careers through Wharton Executive Education's individual, company-customized, and online programs. More than 98,000 Wharton alumni form a powerful global network of leaders who transform business every day. For more information, visit www.wharton.upenn.edu.