PHILADELPHIA, May 16, 2019 — University of Pennsylvania Provost Wendell Pritchett has announced the appointment of Wharton Associate Professor of Management Martine Haas as the Anthony L. Davis Director of the Joseph H. Lauder Institute for Management & International Studies, effective July 1, 2019.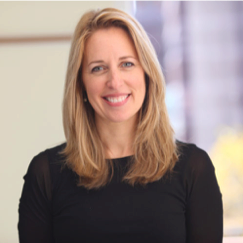 Professor Haas, who joined Wharton in 2007, is a leading expert on global business, including collaboration in multinational firms, global teamwork, and the sociology and social psychology of organizations. At Wharton, Professor Haas has won teaching awards for excellence in both the Wharton MBA core and Wharton undergraduate programs. She has taught courses in global strategy, general management, and organizational behavior to executives, PhD students, MBA students, and undergraduates. In addition, for the past several years Professor Haas has led an annual trip to South Africa for 50+ executive MBA students.
"Martine Haas is one of the most exciting and innovative thinkers about the future of global business," said Provost Pritchett. "I am confident that she will be a great leader in advancing the vital mission of the Lauder Institute. This mission is more essential than ever in our increasingly globalized society, whose complex challenges require multi-faceted, interdisciplinary solutions."
A native of South Africa and a US/UK citizen, Professor Haas has published academic and managerial articles in leading journals, served on numerous editorial boards and in senior editorial roles, and received scholarly awards from the Academy of Management and Academy of International Business.
She has worked for McKinsey & Company in London and for the international aid agency Oxfam and advised a wide range of global organizations including the World Bank, the BBC, and the Tate Gallery of Modern Art. Before joining Penn, she served on the faculty at Cornell University and as a visiting faculty member at London Business School. She earned a PhD in Organizational Behavior and an MA in Sociology from Harvard University, an MA in International Relations from Yale University, and a BA with Honors in Human Sciences from Oxford University.
"Dr. Martine Haas is the perfect choice to lead the Lauder Institute," said Ronald Lauder, chair of the Lauder Institute Board of Governors. "Dr. Haas' experience, vision, and leadership will advance the Lauder Institute, already one of the world's leading places for international business education, to an even higher level. I welcome Martine to this exceptional team and we are all excited to work with her."
The Joseph H. Lauder Institute for Management & International Studies was founded by brothers Leonard and Ronald Lauder in 1983 in honor of their father, Joseph H. Lauder. It provides a fully integrated business education for a new generation of leaders, preparing them to speak the language of global business, culture, and politics in a world of specialization, change, and uncertainty. Its rigorous academic program, in which students earn a Master of Arts in International Studies as well as an MBA from the Wharton School or a JD from the Law School, integrates teaching in tailored arts and sciences courses with advanced language study and cultural immersion experiences.
About the Wharton School
Founded in 1881 as the world's first collegiate business school, the Wharton School of the University of Pennsylvania is shaping the future of business by incubating ideas, driving insights, and creating leaders who change the world. With a faculty of more than 235 renowned professors, Wharton has 5,000 undergraduate, MBA, executive MBA, and doctoral students. Each year 18,000 professionals from around the world advance their careers through Wharton Executive Education's individual, company-customized, and online programs. More than 98,000 Wharton alumni form a powerful global network of leaders who transform business every day. For more information, visit www.wharton.upenn.edu.
About the School of Arts and Sciences
The School of Arts and Sciences has established Penn as one of the world's leading research universities. The largest of Penn's academic divisions, the School is home to 27 departments that represent a full range of disciplines in the humanities, social sciences, and natural sciences.
About the Lauder Institute
Founded in 1983 by Leonard and Ronald Lauder in honor of their father, the Lauder Institute provides a fully integrated business education to a new generation of leaders coming of age in a rapidly globalizing world. The program combines an MA in International Studies from the School of Arts and Sciences with an MBA from the Wharton School or a JD from Penn Law, preparing each class of 70 students to become successful, culturally fluent global business leaders.