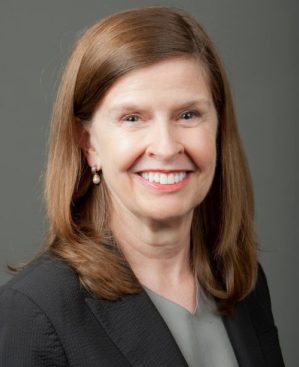 PHILADELPHIA, May 22, 2019 — Wharton School Dean Geoffrey Garrett has announced the appointment of Diana C. Robertson, the Samuel A. Blank Professor of Legal Studies and Business Ethics, as Vice Dean and Director of the Wharton Undergraduate Division, effective July 1, 2019. Professor Robertson succeeds Vice Dean Lori Rosenkopf who, having served two three-year terms, will return to the Wharton Management Department as the Simon and Midge Palley Professor.
Since arriving on the University of Pennsylvania campus in 2007, Professor Robertson has been recognized for outstanding instruction of Wharton undergraduate students, earning seven teaching awards. Known for her interdisciplinary research on individual and organizational business ethics, Professor Robertson incorporates perspectives from neuroscience, psychology, sociology, and organizational behavior into her work.  She is a co-editor of "Thinking about Bribery: Neuroscience, Moral Cognition, and the Psychology of Bribery," published by Cambridge University Press.
"Diana Robertson is a highly respected researcher with a sterling reputation among the many Wharton undergraduate students and alumni fortunate enough to have joined her classroom," said Dean Garrett. "I am grateful to Vice Dean Lori Rosenkopf for the innovation she brought to the undergraduate program and look forward to continued success with Diana Robertson at the helm."
Before coming to Wharton, Professor Robertson served on the faculties of London Business School and Goizueta Business School at Emory University.  She was also a Visiting Professor at the London School of Economics. She received her B.A. from Northwestern University and her Ph.D. from UCLA.
In addition to her teaching awards, Professor Robertson has published an extensive set of refereed articles and book chapters, while winning numerous research awards. In 2007, she won the top research award at Emory University. Currently she is the faculty doctoral coordinator for Wharton's Legal Studies & Business Ethics Department. In 2018, she was named one of the Top 50 Undergraduate Business School Professors by Poets and Quants.
During her tenure, Vice Dean Rosenkopf developed and implemented a new curriculum for Wharton undergraduate students and created the Wharton Industry Exploration Program in which students learn about the tech, entertainment and other industries on location while earning academic credit.  She also led several important diversity and inclusion initiatives, including an orientation program for incoming Wharton students called the Successful Transition and Empowerment Program or STEP, and a multiyear program to increase STEM proficiency among disadvantaged Philadelphia high school students called the Summer Math and Science Honors Academy or SMASH.
About the Wharton School
Founded in 1881 as the world's first collegiate business school, the Wharton School of the University of Pennsylvania is shaping the future of business by incubating ideas, driving insights, and creating leaders who change the world. With a faculty of more than 235 renowned professors, Wharton has 5,000 undergraduate, MBA, executive MBA, and doctoral students. Each year 18,000 professionals from around the world advance their careers through Wharton Executive Education's individual, company-customized, and online programs. More than 98,000 Wharton alumni form a powerful global network of leaders who transform business every day. For more information, visit www.wharton.upenn.edu.