Wharton Online launches Fintech Specialization to reach 40 million learners around the world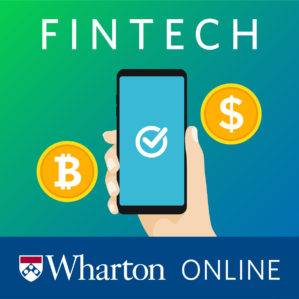 PHILADELPHIA, May 30, 2019 — The Wharton School of the University of Pennsylvania is pleased to announce a new online program: "Fintech: Foundations and Applications of Financial Technologies." With this program Wharton demonstrates its commitment to creating business education that is relevant to today's rapidly changing business landscape. The four-course specialization will be available on the Coursera platform. Topics covered include payments, cryptocurrency and blockchain, lending, crowdfunding, modern investing and insurtech.
"Wharton is committed to leading the future of finance," said faculty director David Musto, Ronald O. Perelman Professor in Finance, and faculty director of the Stevens Center for Innovation in Finance. "The Fintech Specialization leverages the knowledge of our renowned Wharton faculty providing real-world knowledge to the benefit of learners around the globe."
Each course features lectures and case studies from distinguished Penn faculty, including Wharton Professors Chris Geczy, David Musto and Jessica Wachter, and Penn Law Professors Sarah Hammer and Natasha Sarin.
The courses also feature speakers from the industry, with guests drawn from such organizations as online lender CommonBond, mobile payment processor Square, investment advisor Vanguard, and more. Designed for working professionals, the Fintech Specialization is useful for current students, small business owners and anyone interested in gaining a foundational knowledge of financial technologies.
"We are proud to launch this program as part of our multi-faceted approach to defining fintech for the world," said Anne Trumbore, senior director of Wharton Online. "The Fintech Specialization is an important new component of Wharton's powerful fintech portfolio."
Wharton recently announced the Stevens Center for Innovation in Finance to encourage collaboration, discovery, and impact in this emerging field. Wharton is also home to the world's first student-run fintech initiative. With the addition of four courses in fintech, Wharton Online now offers ten certificate programs and over fifty courses. Wharton's Fintech Specialization is available to anyone at coursera.org/specializations/wharton-fintech.
About the Wharton School
Founded in 1881 as the world's first collegiate business school, the Wharton School of the University of Pennsylvania is shaping the future of business by incubating ideas, driving insights, and creating leaders who change the world. With a faculty of more than 235 renowned professors, Wharton has 5,000 undergraduate, MBA, executive MBA, and doctoral students. Each year 18,000 professionals from around the world advance their careers through Wharton Executive Education's individual, company-customized, and online programs. More than 98,000 Wharton alumni form a powerful global network of leaders who transform business every day. For more information, visit www.wharton.upenn.edu.
About Wharton Online
Wharton Online, the Wharton School's digital learning platform, makes high-quality business education available to learners anytime and anywhere. From certificate programs that issue Continuing Education Units to specializations across a variety of business and management topics, Wharton Online's offerings equip learners to advance their careers. And with 100K certificate-earning learners and more than one million total learners who have accessed courses, Wharton Online boasts an impressive network of business leaders around the globe.
###