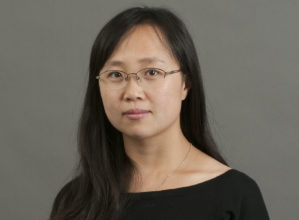 PHILADELPHIA, June 10, 2019 — Wharton School Dean Geoffrey Garrett has announced the appointment of Professor of Statistics, Nancy Zhang, as the Vice Dean of Wharton Doctoral Programs (WDP), effective July 1, 2019. In her new role, Professor Zhang will oversee the operations and management of the nine academic areas of WDP. Professor Zhang succeeds Cathy Schrand, who will return to the Wharton Accounting Department as the Celia Z. Moh Professor.
Among her many accomplishments since arriving on the University of Pennsylvania campus in 2011, Professor Zhang served as doctoral program co-director for the Wharton Statistics Department from 2012 to 2017. At Penn, she has been an important advisor and mentor for students in Statistics, as well as in other departments, including Genomics and Computational Biology; Biostatistics, Epidemiology, and Informatics; and Applied Mathematics and Computational Sciences.
"I'm very pleased that Nancy Zhang will join us as the doctoral programs' leader. She represents the best of Wharton's research capabilities while, through her highly collaborative approach, serving as a role model for students." said Dean Garrett. "I am grateful to Vice Dean Cathy Schrand for her dedication to the doctoral program and look forward to continued success with Nancy Zhang."
Professor Zhang's research focuses primarily on statistical and computational approaches for the analysis of genetic, genomic, and transcriptomic data. In addition to her contributions in statistics, her methods have made contributions to genetics, tumor genomics, and single-cell biology.
In the field of Genomics, she has developed methods to improve the accuracy of copy number variant and structural variant detection, methods for improved false discovery rate control, and methods for analysis of single-cell RNA sequencing data. In the field of Statistics, she has developed new models and methods for change-point analysis, variable selection, and model selection. Professor Zhang has also made contributions in the area of tumor genomics, where she has developed analysis methods to improve understanding of intra-tumor clonal heterogeneity.
Professor Zhang earned her undergraduate degree in mathematics, her master's in computer science and her doctorate in statistics from Stanford University. In 2011, she was the recipient of a prestigious Sloan Fellowship. Prior to arriving at Wharton, Professor Zhang was an assistant professor of statistics at Stanford and a post-doctoral fellow at the University of California, Berkeley.
During her tenure, Professor Schrand upgraded the writing and communications offerings for doctoral students and encouraged cross-disciplinary engagement among students. She updated the statistics sequence and expanded offerings for applied courses. Professor Schrand also oversaw outstanding placements for WDP graduates, including faculty positions at the University of Chicago, MIT, Stanford, and Yale University.
Under Professor Schrand's leadership, WDP also advanced diversity initiatives, and enrollments of diverse students at WDP increased significantly. At the same time, WDP's program for undergraduates, Introduction to Diversity in Doctoral Education and Scholarship (IDDEAS), expanded to Stanford, Berkeley, the University of Chicago, and Northwestern University.
Professor Schrand will continue her role as Faculty Director of the Wharton Research and Scholars programs.
About the Wharton School
Founded in 1881 as the world's first collegiate business school, the Wharton School of the University of Pennsylvania is shaping the future of business by incubating ideas, driving insights, and creating leaders who change the world. With a faculty of more than 235 renowned professors, Wharton has 5,000 undergraduate, MBA, executive MBA, and doctoral students. Each year 18,000 professionals from around the world advance their careers through Wharton Executive Education's individual, company-customized, and online programs. More than 98,000 Wharton alumni form a powerful global network of leaders who transform business every day. For more information, visit www.wharton.upenn.edu.