"Wharton School Press" Heralds Timeless Demand for Trusted Content and Enduring Presence of Digital Publishing Technologies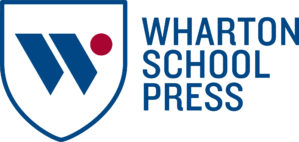 PHILADELPHIA, October 15, 2019—The book publishing arm of the Wharton School of the University of Pennsylvania is changing its name from Wharton Digital Press to Wharton School Press.
"Wharton School Press has made a significant impact on behalf of the school since it first launched as Wharton Digital Press. We're very excited about this new direction, which emphasizes the school's continued commitment to publishing important books," said Dean Geoffrey Garrett.
"This change underscores the Wharton School name, a key selling point for readers seeking trusted information and for authors looking for a prestigious publishing partner," said Peter Fader, Frances and Pei-Yuan Chia Professor and Chair of Wharton School Press's Faculty Advisory Board. "In our conversations with stakeholders, including faculty and authors, we heard time and again that the Wharton School's name is among our greatest strengths. This evolution will enable the Press to make an even greater impact in the years ahead."
The Press was launched in 2011 by Stephen J. Kobrin, William H. Wurster Emeritus Professor of Multinational Management, who retired from his role as executive director in 2018. At its inception, the Press set out to leverage emerging digital publishing technologies to position the Wharton School on the leading-edge of experimentation in learning and as a forward-thinking innovator. While many business-school presses experimented, the Wharton School was the first and only business school to launch a digital book press dedicated exclusively to exploring the unique opportunities presented by these changes.
"The spirit of innovation and experimentation with which the Press was launched will continue to be central to the Press's work," said Shannon Berning, Director and Publisher, Wharton School Press. "We will also continue to publish a select list of research-driven, fast-reading, and actionable business books and operate the Wharton School Press Bookstore, which features a curated selection of thought-leading books by Wharton faculty."
The name change points to digital publishing's pivot from an innovative new technology to an enduring method for delivering excellent content to readers globally. The Press has matured with the industry, going from an innovative publishing experiment to an established operation making a global impact.
Wharton School Press features a growing pipeline of high-profile, award-winning, and bestselling books from a wide range of thought leaders, including Wharton professors Peter Fader, Barbara Kahn, Michael Useem, Kevin Werbach, and others, as well as outside experts, including New York Times-bestselling author Charlene Li, former Rockefeller Foundation president Judith Rodin, and technology entrepreneur and academic Vivek Wadhwa, among others. The books, distributed and sold globally, have garnered honors including Economist Book of the Year and coverage in the Wall Street Journal, New York Times, and other leading outlets. Wharton School Press has a strong list slated for 2020 that will soon be announced.
Visit the Wharton School Press Bookstore at wsp.wharton.upenn.edu.
Please follow Wharton School Press on Twitter: @WhartonPress.
About Wharton School Press
Wharton School Press, the book publishing arm of The Wharton School of the University of Pennsylvania, was established to inspire bold, insightful thinking within the global business community.
Wharton School Press publishes a select list of award-winning, bestselling, and thought-leading books that offer trusted business knowledge to help leaders at all levels meet the challenges of today and the opportunities of tomorrow. Led by a spirit of innovation and experimentation, Wharton School Press leverages groundbreaking digital technologies and has pioneered a fast-reading business book format that fits readers' busy lives, allowing them to swiftly emerge with the tools and information needed to make an impact. Wharton School Press books offer guidance and inspiration on a variety of topics, including leadership, management, strategy, innovation, entrepreneurship, finance, marketing, social impact, public policy, and more.
Wharton School Press also operates an online bookstore featuring a curated selection of influential books by Wharton School faculty and Press authors published by a wide range of leading publishers.
To find books that will inspire and empower you to increase your impact and expand your personal and professional horizons, visit wsp.wharton.upenn.edu.
About the Wharton School
Founded in 1881 as the world's first collegiate business school, the Wharton School of the University of Pennsylvania is shaping the future of business by incubating ideas, driving insights, and creating leaders who change the world. With a faculty of more than 235 renowned professors, Wharton has 5,000 undergraduate, MBA, executive MBA, and doctoral students. Each year 18,000 professionals from around the world advance their careers through Wharton Executive Education's individual, company-customized, and online programs. More than 99,000 Wharton alumni form a powerful global network of leaders who transform business every day.
For more information, visit www.wharton.upenn.edu.
###