New Data Science and Business Analytics Fund made possible by recent, anonymous $15 million gift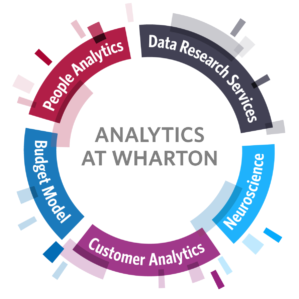 PHILADELPHIA, October 30, 2019 – Analytics at Wharton has selected eight projects as inaugural recipients of the newly created Data Science and Business Analytics Fund. The projects, chosen from 23 proposals submitted from around Wharton, will focus on a range of topics and include: predictive analytics to detect financial irregularities, machine learning as a tool for human resources and the creation of a new Women in Analytics conference. A formal call for submissions solicited proposals that demonstrate the need for financial support and infrastructure to enhance faculty research, student learning opportunities and engagement with industry and alumni.
"We are delighted by the quantity and caliber of the proposals submitted to Analytics at Wharton's Data Science and Business Analytics Fund," said Vice Dean of Analytics, Eric T. Bradlow, a professor of marketing, economics, education and statistics and the chair of Wharton's Marketing Department. "All of the proposals were intriguing in their own way and collectively reflect the incredible breadth of analytics knowledge being created at Wharton."
Thanks to an anonymous $15 million gift, the Wharton School launched Analytics at Wharton in May 2019 to unite the School's trailblazing teaching, research and industry engagement initiatives that use big data to improve decision-making and generate actionable business insights. The Data Science and Business Analytics Fund's goal is to accelerate Wharton's innovations in applying sophisticated analytical tools to solve challenges and leverage the opportunities for business and society generated by the data and technology revolution. This gift is an instrumental investment in analytics, a core area of focus of Wharton's More Than Ever campaign.
"At Wharton, the keystone of our research has always been the creation of knowledge through the analysis of empirical data," said Michael R. Gibbons, Wharton School Deputy Dean and Professor of Finance. "The Data Science and Business Analytics Fund and the projects it seeds will further elevate Wharton's dominant reputation in the area of predictive analytics."
The inaugural Data Science and Business Analytics Fund recipients are:
Data Science for Finance submitted by Professor of Finance Michael R. Roberts
This funding supports the development of a new course: Data Science for Finance. The course will highlight how big data and data analytics shape the way finance is practiced, and will introduce students to data science for financial applications using the Python programming language and its ecosystem of packages (e.g., Dask, Matplotlib, Numpy, Numba, Pandas, SciPy, Scikit-Learn, StatsModels). To do so, students will investigate a variety of empirical questions from different areas within finance including: fintech, investment management, corporate finance, corporate governance, venture capital, private equity and entrepreneurial finance.
Effective Text Processing in New Domains: Transfer Learning for Word Embeddings, submitted by Assistant Professor of Operations, Information and Decisions Hamsa Bastani
While modern data analytics are incredibly effective at extracting valuable insight from text data (e.g., product reviews, nurses' notes, etc.), they require an enormous amount of data. This research seeks to increase the applicability of state-of-the-art text analytics algorithms by transferring word embeddings for large-scale data to domains with small- and medium-scale datasets.
Environmental, Social and Governance Analytics, submitted by Witold Henisz, Professor of Management; Director, Wharton Political Risk Lab
This project focuses on analyzing the materiality of businesses' environmental, social and governance risks and opportunities and promotes faculty research, teaching and student learning in this area.
People Analytics Video Project, submitted by Executive Director of Wharton People Analytics Laura Zarrow
Wharton People Analytics will produce a slate of instructive, engaging, 5-15-minute videos from previous conferences and events that illuminate aspects of people analytics for students, industry professionals and alumni.
The Promise and Peril of Algorithms in Human Resources, submitted by Associate Professor of Operations, Information and Decisions Prasanna Tambe
This research project conducts an empirical exploration of the relative costs and benefits of using machine learning-based tools on video job application data during the hiring process.
The Science of the Deal: Deep Reinforcement Learning for Optimal Bargaining on eBay, submitted by Assistant Professor of Operations, Information and Decisions Etan A. Green
This research project trains an artificial intelligence to make optimal offers in negotiations on eBay.
Wharton Forensic Analytics Lab, submitted by Associate Professor of Accounting Daniel Taylor
This project will develop research and teaching expertise on the application of big data and predictive analytics to issues related to insider trading, financial irregularities and fraud. The Lab will aim to create new tools and technologies, academic research and teaching and educational materials.
Women in Analytics and Data Science Conference, submitted by Executive Director of Wharton Customer Analytics Mary Purk and Professor of Statistics Linda Zhao
This conference, for Penn students, aims to inspire and educate data scientists, regardless of gender, and support women in analytics and data science-related careers. Planned for February 14, 2020 on Penn's campus, this event is part of the larger Women in Data Science (WiDS) initiative originated at Stanford in November 2015 and includes a global conference, 150+ regional events, a datathon and numerous podcasts.
About the Wharton School
Founded in 1881 as the world's first collegiate business school, the Wharton School of the University of Pennsylvania is shaping the future of business by incubating ideas, driving insights, and creating leaders who change the world. With a faculty of more than 235 renowned professors, Wharton has 5,000 undergraduate, MBA, executive MBA, and doctoral students. Each year 18,000 professionals from around the world advance their careers through Wharton Executive Education's individual, company-customized, and online programs. More than 99,000 Wharton alumni form a powerful global network of leaders who transform business every day. For more information, visit www.wharton.upenn.edu.
###