Wharton Online's newest program based on best-selling book "A Human's Guide to Machine Intelligence"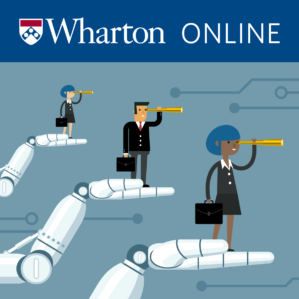 PHILADELPHIA, February 19, 2020 — Artificial intelligence (AI) is embedded in nearly every aspect of daily life, from entertainment (e.g. Netflix) to navigation (e.g. Waze) to dating (e.g. Match.com). To address the risks, opportunities and challenges of implementing artificial intelligence into business practice, the Wharton School of the University of Pennsylvania is pleased to announce a new online program: Artificial Intelligence for Business. This four-week program, Wharton's first public offering to address AI, can help working professionals successfully navigate today's technological changes so they can create the innovations of tomorrow.
Based on the best-selling book, A Human's Guide to Machine Intelligence, by acclaimed Wharton professor Kartik Hosanagar, the Artificial Intelligence for Business program is designed to provide learners with insights into both established and emerging developments in AI, Big Data, Machine Learning, and the operational changes AI will bring. The lessons within this course are applicable to multiple industries and dynamic markets. 
"Just like digital technologies have fundamentally transformed business over the past twenty years, AI is set to do the same over the next twenty years. Managers can no longer afford to have a poor understanding of something so fundamental to business today," says Kartik Hosanagar, John C. Hower Professor of Technology and Digital Business and Professor of Marketing. "This course will help improve managerial understanding of AI, explore the many ways in which AI is being used across industries, and provide a strategic framework for how to bring AI to the center of digital transformation efforts."
Course lesson titles include "AI-Driven Business Transformation," "AI in the Organization Structure," "Data Management Infrastructure," "AI Governance, Business Applications of Machine Learning," and "Data Analysis: Extracting Intelligence from Big Data." This four-week program takes approximately eight hours to complete, is available directly from Wharton Online for $599, and is open for enrollment beginning today. Learners will receive a digital certificate and badge upon completion, which is also eligible for continuing education credit. 
The Artificial Intelligence for Business course is useful for technology-oriented professionals, consultants, business strategists, online marketers, statisticians, automation innovators, data professionals and executives.
"We are proud to launch this important program as part of our mission to provide the most useful and relevant business education to the world," says Anne Trumbore, Senior Director of Wharton Online. "The challenges that AI brings require a deeper understanding of this powerful new technology. This program illustrates Wharton's commitment to addressing the most important business and societal challenges of today."
With the addition of AI for Business, Wharton Online now offers ten certificate programs and over sixty courses. Wharton's Artificial Intelligence for Business program can be found at https://online.wharton.upenn.edu/ai-business/.
About Wharton Online
Wharton Online, the Wharton School's digital learning platform, makes high-quality business education available to learners anytime and anywhere. From certificate programs that issue Continuing Education Units to specializations across a variety of business and management topics, Wharton Online's offerings equip learners to advance their careers. And with 100K certificate-earning learners and more than one million total learners who have accessed courses, Wharton Online boasts an impressive network of business leaders around the globe.
About the Wharton School
Founded in 1881 as the world's first collegiate business school, the Wharton School of the University of Pennsylvania is shaping the future of business by incubating ideas, driving insights, and creating leaders who change the world. With a faculty of more than 235 renowned professors, Wharton has 5,000 undergraduate, MBA, executive MBA, and doctoral students. Each year 18,000 professionals from around the world advance their careers through Wharton Executive Education's individual, company-customized, and online programs. More than 99,000 Wharton alumni form a powerful global network of leaders who transform business every day. For more information, visit www.wharton.upenn.edu.
###