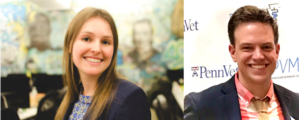 PHILADELPHIA, May 4, 2020 – Penn Wharton Entrepreneurship is pleased to announce the winner of the fourth annual Startup Challenge, sponsored by Eric Aroesty, C'92: My Virtual Veterinarian, founded by Felicity Johnson (WG'20) and advised by John Hurst (WG'20, V'20). A virtual veterinary portal for pet owners, My Virtual Veterinarian makes it possible for pets to receive the care they need, when they need it. Due to the global health crisis surrounding COVID-19, Penn Wharton Entrepreneurship held the competition in a virtual setting on May 1 and 2, 2020, following the leadership of the University of Pennsylvania and The Wharton School.

My Virtual Veterinarian connects pet parents with veterinarians for video and chat appointments, providing a unique solution during the COVID-19 pandemic. Johnson founded the company after experiencing time-consuming medical visits when her cat Tiffany was diagnosed with cancer. Through the My Virtual Veterinarian iOS app, pet parents can access their primary veterinarian, or find a different veterinarian who is available for virtual veterinary appointments, and schedule a convenient appointment time. This flexibility extends to the veterinarians, who can schedule appointments that fit their schedule, avoid unnecessary office visits and access new customers.
My Virtual Veterinarian was selected from the field of Eight Finalist teams—including tropical fruit ice cream and curated flower rental companies—who advanced from the nearly 30 Semifinalists during Day 1 of the competition. Day 1 consisted of several hours of Semifinalist virtual pitching and Q&A in front of alumni entrepreneur and investor panels. On Day 2, Finalists pitched a panel of judges with the public able to view via livestreaming. More than 170 viewers from across the globe tuned in to watch teams compete for over $135,000 in cash and prizes to launch their startups.
The Startup Challenge marks the end to another exciting year of entrepreneurship across the Penn community. Students engaged in entrepreneurial programming are founding, developing, and scaling companies utilizing the multitude of resources available within the Penn and Philadelphia ecosystems. Penn Wharton Entrepreneurship is proud to continue to be a leader in entrepreneurship education, with plans to open Tangen Hall, the university's first dedicated space for cross-campus entrepreneurship and innovation, in the coming year.
The 2020 Startup Challenge winners are:
Perlman Grand Prize: $30,000 + $15,000 in legal, accounting and strategy services to My Virtual Veterinarian
Runner-up: $15,000 + $15,000 in legal, accounting, and strategy services to Percepta
Innovation Award: $10,000 + $15,000 in legal, accounting, and strategy services to MAR Designs
Launch Prize: $10,000 + $15,000 in legal, accounting, and strategy services to Frutero Ice Cream
Frederick H. Gloeckner Award for Best Undergraduate Team: $10,000 Percepta
Robert S. Blank New Venture Collaboration Award: $10,000 to Percepta
Social Impact Prize: $10,000 to Metal Light
Crowd Favorite: $2500 to Open Laboratories
Crowd Favorite: $2500 to Percepta
Previous winners of the Startup Challenge and Showcase include Aerate, which develops a revolutionary, energy-efficient air conditioner, and Sanguis, which develops an at-home blood cell counting device for chemotherapy patients.
Startup Challenge Finals judges were:
Bikram Bakshi (WG'05), Former President & CEO at QSSI (acquired by UnitedHealth Group)
Mona Bijoor (C'98, WG'05), Partner at King Circle Capital
Jenny Lefcourt (W'91), General Partner at Freestyle
Kathryn Stewart (WG'88), Founder & Managing Director at Cranbrook Capital
Startup Challenge & Showcase Sponsors:
Note on abbreviations:
C-Penn College of Arts & Sciences alum (bachelor's)
G-Penn College of Arts & Sciences (master's)
V-Veterinarian Medicine doctoral student/alum
W-Wharton undergraduate student/alum
WG-Wharton MBA student/alum
About Penn Wharton Entrepreneurship
Penn Wharton Entrepreneurship (PWE) is a resource for students across the University of Pennsylvania who are interested in entrepreneurship and innovation. In a rapidly-evolving world, hungry for impactful change, Penn Wharton Entrepreneurship maximizes the ability of the students and alumni to address challenges through entrepreneurship and innovation. Our far-reaching programs impact students across the Penn community, offering educational programming and granting hundreds of thousands of dollars to students developing innovative concepts and engaging them at each step of their entrepreneurial journey. Each year, more than 2,000 students, alumni, faculty, and staff attend and participate in workshops, networking events, mentoring, and competitions led by PWE. Penn Wharton Entrepreneurship's disciplined approach challenges concepts, focuses ideas, and provides the knowledge to turn nascent ventures into robust, enduring organizations. For more information, visit www.entrepreneurship.wharton.upenn.edu
About the Wharton School
Founded in 1881 as the world's first collegiate business school, the Wharton School of the University of Pennsylvania is shaping the future of business by incubating ideas, driving insights, and creating leaders who change the world. With a faculty of more than 235 renowned professors, Wharton has 5,000 undergraduate, MBA, executive MBA and doctoral students. Each year 13,000 professionals from around the world advance their careers through Wharton Executive Education's individual, company-customized, and online programs. More than 99,000 Wharton alumni form a powerful global network of leaders who transform business every day. For more information, visit www.wharton.upenn.edu.