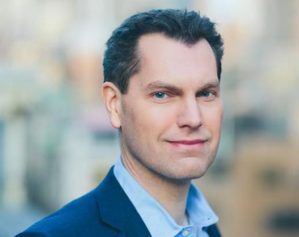 PHILADELPHIA, May 12, 2020 – The Carnegie Corporation of New York announced today that Penn Integrates Knowledge Professor Duncan Watts has won a 2020 Andrew Carnegie Fellowship, which includes a grant of $200,000. With his grant Watts plans to study bias and misinformation in the media.
The 2020 class of Andrew Carnegie Fellows consists of 27 scholars, out of more than 300 nominated candidates. The candidates' proposals were initially evaluated by an anonymous team of prominent scholars, educators, and intellectuals, and the final selections were made by a distinguished panel of 17 jurors, including University of Pennsylvania President Amy Gutmann.
Watts is a member of Wharton's Operations, Information and Decisions department and also holds faculty appointments in Penn's School of Engineering and Applied Science and Annenberg School for Communication. In his work Watts seeks to deepen understanding of the origins, nature, and prevalence of misinformation and its effects on democracy. Using a unique collection of datasets — including text from online news publishers; closed caption text from local television news programs; and nationally representative panels of mobile, web, and TV content consumption — Watts and his collaborators at Penn, Microsoft Research, MIT, and Stanford will study how the media produces information, how it is consumed by people, and how it influences public opinion and understanding.
"Since the 2016 election a great deal of attention has focused on the role of explicitly false information circulating on social media," Watts says. "Although worrying, I think that problem is really the tip of the iceberg. Misinformation is a much broader problem than outright falsehoods and it affects all of the media, not just social media. But wrapping our arms around the full scope of the problem will require unprecedented amounts of data and correspondingly novel methods to make sense of it."
A pioneer in the use of digital data to study social networks and collective behavior, Watts is the author of three books: Six Degrees: The Science of a Connected Age (W.W. Norton 2003), Small Worlds: The Dynamics of Networks between Order and Randomness (Princeton University Press 1999), and Everything is Obvious: Once You Know The Answer (Crown Business 2011).
Watts has previously been recognized by the 2009 German Physical Society Young Scientist Award for Socio and Econophysics, the 2013 Lagrange-CRT Foundation Prize for Complexity Science, and the 2014 Everett M. Rogers Award. And in 2018, he was named an inaugural fellow of the Network Science Society.
Now in its sixth year, the goal of the Andrew Carnegie Fellows Program is to support high-caliber scholarly research in the humanities and social sciences that addresses important and enduring issues confronting our society. The selected projects focus on a broad range of complex political, economic, technological, humanistic, and sociological matters.
About the Wharton School
Founded in 1881 as the world's first collegiate business school, the Wharton School of the University of Pennsylvania is shaping the future of business by incubating ideas, driving insights, and creating leaders who change the world. With a faculty of more than 235 renowned professors, Wharton has 5,000 undergraduate, MBA, Executive MBA, and doctoral students. Each year 13,000 professionals from around the world advance their careers through Wharton Executive Education's individual, company-customized, and online programs. More than 99,000 Wharton alumni form a powerful global network of leaders who transform business every day. For more information, visit www.wharton.upenn.edu.
###