Prism Fellowship to be awarded annually to incoming first-year student 
PHILADELPHIA, June 1, 2020 – The Wharton School of the University of Pennsylvania today announced its new Prism Fellowship which recognizes an outstanding MBA student who is both a member of and demonstrates leadership in support of the LGBTQIA+ community. The Prism Fellowship covers the full cost of tuition for Wharton's two-year, full-time MBA program and is likely the first of its kind at any business school.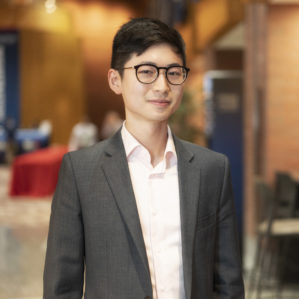 Colan Wang of Toronto, Ontario is the recipient of the inaugural Prism Fellowship. He joins the Wharton MBA Class of 2022 this fall and is currently a business consultant at TD Wealth. At TD Wealth he leads a gender inclusion project that will benefit the bank's clients with diverse gender identities and expressions by providing an opportunity to ensure that their preferred name and pronoun appears across written, digital and in-person bank communications.
The Prism Fellowship was established in 2019 by Jeffrey Schoenfeld, WG'84, a partner at Brown Brothers Harriman. It will be awarded annually to one student admitted to the Wharton MBA Program.
"We recognize the power of bringing a range of experiences and perspectives together to foster an inclusive MBA community focused on making a positive impact on the world," said Wharton MBA Admissions Director Blair Mannix. "Colan's strong leadership, collaboration and analytical skills exemplify what the fellowship represents, and we are thrilled to welcome him into our vibrant, supportive and dynamic community this fall."
"As one of very few 'out' MBA students entering Wharton in 1982, I truly marvel today at how far LGBTQ recognition and integration have become embraced by the broader business community," said Schoenfeld. "I am also mighty proud that Wharton has emerged as a leader in building the most diverse class among leading U.S. business schools, and feel privileged to support LGBTQ student leaders through their MBA journey."
Prism Fellows are selected by the Wharton Fellowship Committee based on their leadership qualities, community impact and personal essays submitted with their MBA program application. 
"I am honored to be named the first Prism Fellow at Wharton and excited to join the supportive culture that I experienced first-hand during Wharton's LGBT Visit Day," said Wang. "This community is filled with LGBTQIA+ students and allies who are there for each other, and I look forward to making a positive impact and building valuable connections that will last throughout my career."
The Prism Fellowship is part of a Wharton tradition of supporting student diversity programs. Examples include numerous student cultural and affinity clubs, a nearly 50 percent female MBA student representation and special peer learning activities including the Return on Equality Coalition. 
For more information on the Prism Fellowship and other financial aid opportunities, visit the Wharton MBA Tuition, Cost & Financial Aid Information website.
About the Wharton School
Founded in 1881 as the world's first collegiate business school, the Wharton School of the University of Pennsylvania is shaping the future of business by incubating ideas, driving insights, and creating leaders who change the world. With a faculty of more than 235 renowned professors, Wharton has 5,000 undergraduate, MBA, executive MBA and doctoral students. Each year 13,000 professionals from around the world advance their careers through Wharton Executive Education's individual, company-customized, and online programs. More than 99,000 Wharton alumni form a powerful global network of leaders who transform business every day. For more information, visit www.wharton.upenn.edu.
###