PHILADELPHIA, September 23, 2020 — The Wharton School of the University of Pennsylvania is pleased to announce a $2.5 million commitment from undergraduate alumni Bobby Turner, W'84 and Lauren Golub Turner, W'85 to sustain and strengthen the MIINT (MBA Impact Investing Network & Training) program, a collaboration between the Wharton Social Impact Initiative and the Bridges Impact Foundation. This commitment establishes the Turner MIINT Fund.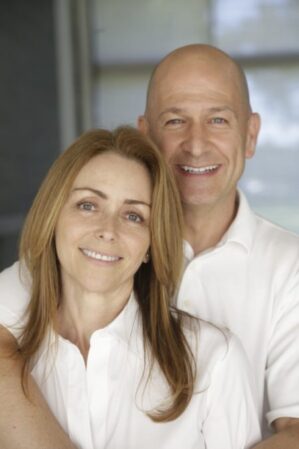 "The MIINT program is an excellent experiential learning opportunity for students and this generous gift from Bobby and Lauren Turner will widen its potential for making impact through investing," said Dean Erika H. James. "The Turner's involvement with the Wharton Social Impact Initiative (WSII) over the years has served to amplify its mission and have greatly raised awareness of the work being done at Wharton. I am thrilled to have them so inextricably linked with the outstanding MIINT program."
The Turner MIINT Fund will support and enhance the ten-year-old MIINT program which will now be re-named Turner MIINT. Turner MIINT is a learning program that trains MBA students in impact investing. Over the course of the academic year more than 750 students from 35+ international and domestic business schools participating in Turner MIINT learn via an online learning platform and conduct due diligence on impact companies, learning skills like impact management, measurement practices, and early-stage valuation models. Students participate in a global competition to diligence and present for investment a seed-stage impact investment. The winning companies have the opportunity to receive up to a $50,000 investment. To date, 2,925 students from all over the world have participated in the program. Past winners have included LearnSprout (acquired by Apple) and Edovo. Investment capital is provided through Impact Assets and has generously been made available by the Moelis Family Foundation and Liquidnet.
"Bobby and Lauren have been dedicated advocates for WSII and have contributed greatly to its successes," said Katherine Klein, Vice Dean of Wharton Social Impact Initiative and Edward H. Bowman Professor of Management. "They share with WSII a vision for using business to address social and environmental challenges and this shows through their involvement and commitment that extends far beyond this gift."
A partnership between the Bridges Impact Foundation and Wharton Social Impact Initiative since 2014, Turner MIINT is the premiere experiential education program for graduate students interested in learning about impact investing. "We value this relationship and believe that co-producing the MIINT brings together the best of Wharton's academic rigor with the practitioner experience of the MIINT steering committee," noted Brian Trelstad, a partner at Bridges Fund Management. "The contribution from the Turners comes at an important time in the program as we seek to find ways to include students from less traditional backgrounds who are underrepresented in the fields of impact investing and finance," added MIINT Program Manager Adwoa Asare.
The Turners also founded the Lauren & Bobby Turner Social Impact Executive Speaker series inviting celebrities and leaders who use their influence for social change to speak to the Penn community. Previous speakers included Andre Agassi, Earvin "Magic" Johnson, Eva Longoria, Ashton Kutcher, Vincent Stanley, Bill Ackman, Valerie Jarrett, and Antony Bugg-Levine. Additionally, they launched and funded the Turner Social Impact Society, a select community of Penn and Wharton undergraduates who prioritize social impact in their years at Penn, and beyond.
"We are happy to provide continuing support for this exceptional program that gives hands-on impact investing experience to future leaders," said Bobby Turner. "Lauren and I believe strongly that businesses can help solve the most pressing issues we face as both a society and a global community. By continuing our investment in students through the work of WSII, we are creating a new generation of business leaders who are poised to face these challenges with innovation and expertise."
Bobby Turner received a B.S. in Finance at Wharton and serves on the School's Board of Overseers. Lauren also received a B.S. in Entrepreneurial Management at Wharton. Together, they established the Turner Endowed Scholarship for minority Wharton undergraduate students from Los Angeles and other urban areas. Bobby is responsible for launching several ground-breaking impact investing funds over the past two decades, including partnerships with Andre Agassi (focusing on the development of learning friendly, environmentally responsible charter school facilities) and with Earvin "Magic" Johnson (focusing on inner-city and urban real estate development). He is the CEO of Turner Impact Capital, LLC (Turner), one of the nation's largest and fastest-growing social impact investment firms, positioned to invest up to $3 billion in real estate solutions to address daunting societal challenges across the U.S. Turner has been at the forefront of discussions on leveraging social impact investment to promote racial justice and community-building, and to improve healthcare outcomes and reduce disparities.
About the Wharton School
Founded in 1881 as the world's first collegiate business school, the Wharton School of the University of Pennsylvania is shaping the future of business by incubating ideas, driving insights, and creating leaders who change the world. With a faculty of more than 235 renowned professors, Wharton has 5,000 undergraduate, MBA, executive MBA, and doctoral students. Each year 13,000 professionals from around the world advance their careers through Wharton Executive Education's individual, company-customized, and online programs. More than 99,000 Wharton alumni form a powerful global network of leaders who transform business every day. For more information, visit www.wharton.upenn.edu.
About the University of Pennsylvania
The University of Pennsylvania, founded in 1740, is an Ivy League institution with a distinctive past. Its 12 undergraduate, graduate, and professional schools are located in Philadelphia on an attractive urban campus that serves a diverse community of more than 20,000 students from throughout the nation and around the world. Ranked consistently among the top universities in the nation, Penn has a longstanding reputation for excellence in graduate and professional education.
###