Inaugural sessions will focus on racial injustice featuring acclaimed guest speakers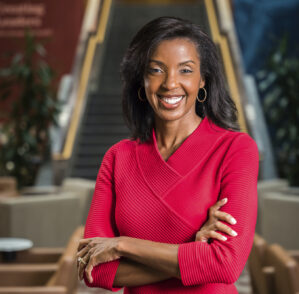 PHILADELPHIA, October 8, 2020 — The Wharton School of the University of Pennsylvania is pleased to announce the debut of a new, three-part Tarnopol Dean's Lecture Series led by Wharton Dean Erika James entitled "Beyond Business" that will tackle complex, pressing issues impacting individuals and organizations in the U.S. and around the world.  With a goal of shining a light on the nation's challenges with racial unrest, the inaugural set of discussions will focus on racial injustice. The first session, Race & The Entrepreneur, is set for October 21, 2020 at 12:30 pm ET and will look at the systemic issues of race that impact success for Black entrepreneurs and how industry and individuals can partner for meaningful change. All sessions are open to the public at no cost and will stream live to a global audience on the Wharton School's LinkedIn page.

Among the barriers facing Black entrepreneurs are blocked access to investors, limited mentoring options and fewer educational choices. Joining Dean James to tackle these challenges will be 1993 Wharton undergraduate alumnus Josh Kopelman, managing partner of First Round Capital, and 2007 Wharton undergraduate alumnus Chris Bennett, founder of Wonderschool. The second half of the session will feature a Q&A with the LinkedIn Live audience moderated by Wharton Vice Dean of Entrepreneurship and Innovation Karl Ulrich.
"Through this lecture series, Wharton is making a statement on the importance of prioritizing race and inclusion in America and asking firms to consider what it will take to place the issue at  the top of the corporate agenda," said Dean James. "I'm delighted such distinguished panelists will be joining me for the first session as we begin this conversation that will inspire others to make long-term change."
Dean James began her tenure at Wharton on July 1, 2020 and in doing so became the first-ever woman and African American to lead the world's oldest collegiate school of business. Prior to Wharton, she was dean of Goizueta Business School at Emory University. Throughout Dean James' award-winning career as a researcher and instructor she has investigated issues of diversity, leadership and crisis management. She is the author of numerous journal articles, co-author of the book, "Leading Under Pressure: From Surviving to Thriving Before, During, and After a Crisis" and was named one of the "Top 10 Women of Power in Education" by Black Enterprise magazine.
Subsequent "Beyond Business" sessions are planned for November (Race & Corporate Power) and December (Race & The Selling of America) and will feature additional acclaimed guest speakers. More information is available here. 
About the Wharton School and the Tarnopol Dean's Lecture Series
Founded in 1881 as the world's first collegiate business school, the Wharton School of the University of Pennsylvania is shaping the future of business by incubating ideas, driving insights, and creating leaders who change the world. With a faculty of more than 235 renowned professors, Wharton has 5,000 undergraduate, MBA, executive MBA, and doctoral students. Each year 13,000 professionals from around the world advance their careers through Wharton Executive Education's individual, company-customized, and online programs. More than 99,000 Wharton alumni form a powerful global network of leaders who transform business every day. For more information, visit www.wharton.upenn.edu.
The Tarnopol Dean's Lecture Series features high-level business influencers and executives and is hosted by Wharton Dean Erika H. James. A global business leader, Mr. Tarnopol served as Vice Chairman of the International Banking Division of Bear, Stearns & Co. Mr. Tarnopol was well known in the Wharton community as a long-time member of the Board of Overseers, and as Vice Chair of Penn's Board of Trustees. He earned the Distinguished Service Award from the Wharton Alumni Association in 1997, and the Dean's Medal in 2003 for his work as co-chair of Campaign for Sustained Leadership. Mr. Tarnopol founded the Penn Club of New York, along with his wife, Lynne, CW'60. He passed away in 2005.  
Previous speakers in the series include Marc Rowan, W'84, WG'85, Co-Founder & Senior Managing Director of Apollo Global Management; Edith Cooper, Global Head, Human Capital Management, Goldman Sachs; and Mohamed A. El-Erian, Senior Global Fellow, the Lauder Institute and President of Queens' College (UK).
###