Panel, part of Beyond Business series, will address how brands can work with Black culture in a way that benefits both companies and the Black community at large
What: The Wharton School of the University of Pennsylvania will host the next installment of its "Beyond Business" Tarnopol Dean's Lecture Series with a panel discussion on "Race & The Selling of America." Presented on the Wharton School's LinkedIn page, panelists will discuss how corporate America is reconciling its complicated history with marketing brands through Black culture, and why now is the time for Black influencers to use their voice to incite meaningful change.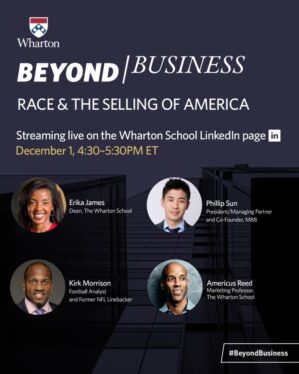 Who: Hosted by Wharton Dean Erika James with panelists Phillip Sun, President/Managing Partner and Co-Founder of M88 (clients include Michael B. Jordan, Donald Glover and Gemma Chan); and Kirk Morrison, SiriusXM/ESPN Radio, Football Analyst and Former NFL Linebacker; with Q&A moderated by Americus Reed, The Whitney M. Young Jr. Professor of Marketing at the Wharton School.
When: Tuesday, December 1 from 4:30-5:30 p.m. EST
Where: The Wharton School's LinkedIn Page
RSVP: The event is free and open to the public. Attendees are encouraged to RSVP, and media are encouraged to register and submit panelist questions in advance to Wharton Media Relations at communications@wharton.upenn.edu.     
About the Wharton School and the Tarnopol Dean's Lecture Series
Founded in 1881 as the world's first collegiate business school, the Wharton School of the University of Pennsylvania is shaping the future of business by incubating ideas, driving insights, and creating leaders who change the world. With a faculty of more than 235 renowned professors, Wharton has 5,000 undergraduate, MBA, executive MBA and doctoral students. Each year 13,000 professionals from around the world advance their careers through Wharton Executive Education's individual, company-customized, and online programs. More than 99,000 Wharton alumni form a powerful global network of leaders who transform business every day. For more information, visit www.wharton.upenn.edu. 
The Tarnopol Dean's Lecture Series features high-level business influencers and executives and is hosted by Wharton Dean Erika H. James. A global business leader, Mr. Tarnopol served as Vice Chairman of the International Banking Division of Bear, Stearns & Co. Mr. Tarnopol was well known in the Wharton community as a long-time member of the Board of Overseers, and as Vice Chair of Penn's Board of Trustees. He earned the Distinguished Service Award from the Wharton Alumni Association in 1997, and the Dean's Medal in 2003 for his work as co-chair of Campaign for Sustained Leadership. Mr. Tarnopol founded the Penn Club of New York, along with his wife, Lynne, CW'60. He passed away in 2005.  
Previous speakers in the series include Marc Rowan, W'84, WG'85, Co-Founder & Senior Managing Director of Apollo Global Management; Edith Cooper, Global Head, Human Capital Management, Goldman Sachs; and Mohamed A. El-Erian, Senior Global Fellow, the Lauder Institute and President of Queens' College (UK).
###