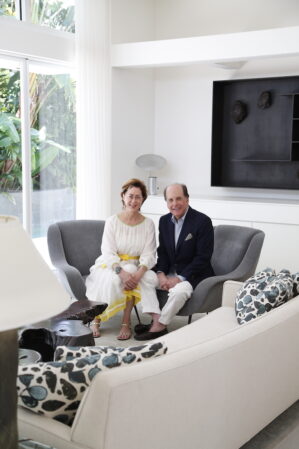 PHILADELPHIA, March 24, 2022—The Wharton School of the University of Pennsylvania is pleased to announce a $10 million commitment from Ellen L. Hanson and Richard E. Perlman, W'68, that will further the University's commitment to inspiring innovation among students. Their contribution will establish Entrepreneurship Through Acquisition (ETA) and support other programming at Venture Lab, a central resource for entrepreneurship that brings together students from across the University.
"The University has long been committed to fostering innovation and entrepreneurship," said Interim President Wendell Pritchett. "This generous commitment from Ellen Hanson and Richard Perlman will greatly enhance our efforts to inspire innovation by Penn students. We are exceedingly grateful that Ellen and Richard's vision and philanthropy will advance our position as leaders in the study and practice of entrepreneurship through acquisition, and ensure that the entrepreneurial spirit continues to thrive at Penn."
New Wharton ETA programming will increase awareness that many successful entrepreneurial endeavors – including those of numerous alumni – thrive through a new owner's investment and dedication to growing an existing small business. Hanson and Perlman's gift will support wide-ranging programs and initiatives within an emerging ETA program at Venture Lab, including curriculum development and delivery; workshops and research; and support for Expert in Residence advisors and staff. Their contribution will also provide financial support for University graduates – known as Perlman Fellows – who wish to explore ETA, incentivizing students by making ETA more financially accessible and professionally supportive.
With a focus on instructional learning opportunities for current students and hands-on opportunities after graduation, ETA will bring together faculty and alumni to provide structured guidance and mentorship for students pursuing these ventures. The ETA curriculum is designed to provide students with a tactical and applicable understanding of business, delivered in formats ranging from faculty-led classroom instruction to workshop series and guest speakers. As Perlman Fellows, recent graduates will benefit from alumni mentoring, gain experience with search, and optimize resources supporting their journey.
"The future of business is reliant on forward-thinking, innovative leaders who will challenge norms, and bring fresh, new ideas and approaches to the world," says Perlman. "There is no better investment than in the next generation of great business leaders, and Ellen and I are proud to lend our support to the incredible work being done at Wharton and Penn to further that progress. We are hopeful that expanding the curriculum will inspire more students to pursue ETA."
The experiences and reflections of recent Wharton MBA ETA Club President Austin Lee, WG'21, illustrate the promise of this gift dedicated to expanding ETA opportunities.
"The decision I made to pursue a career in entrepreneurship through acquisition was informed and influenced greatly by the professors, students, and ETA Club at Wharton," said Lee. "At Wharton, I learned the business fundamentals required to find success while managing a small company. There are more Wharton alumni in the ETA space than most realize, a passionate and supportive group of folks that have helped me greatly both as a student and now as a graduate on a fun and exciting career path."
This new gift also expands upon Hanson and Perlman's previous support by adding to the Richard and Ellen Perlman Grand Prize. Established in 2013, the Perlman Grand Prize is the largest endowed gift to the Startup Challenge, the culminating competition for Penn student-founded new ventures. Their support increases the prize amount from $30,000 to $50,000, which is awarded to exceptional entrepreneurial students.
"Through their generosity, Ellen and Richard are enhancing programs and opportunities for today's aspiring entrepreneurs and nurturing a growing community of motivated, driven, curious students who are ready to approach the greatest challenges in society and business as innovative problem solvers," says Wharton Dean Erika James. "We could not be more grateful for their profoundly thoughtful investment."
Richard Perlman is the founder and executive chairman of ExamWorks Group, Inc., which provides evidence-based medical evaluations to the property and casualty market for workers compensation, automotive, and general liability injury claims. An undergraduate alumnus of Wharton, Perlman remains dedicated to the University through his philanthropy and service as a member of the Wharton Undergraduate Executive Board and the Penn Wharton Entrepreneurship Advisory Board.
About the Wharton School
Founded in 1881 as the world's first collegiate business school, the Wharton School of the University of Pennsylvania is shaping the future of business by incubating ideas, driving insights, and creating leaders who change the world. With a faculty of more than 235 renowned professors, Wharton has 5,000 undergraduate, MBA, executive MBA, and doctoral students. Each year 13,000 professionals from around the world advance their careers through Wharton Executive Education's individual, company-customized, and online programs. More than 100,000 Wharton alumni form a powerful global network of leaders who transform business every day. For more information, visit www.wharton.upenn.edu.
About Venture Lab
Venture Lab is a resource for any Penn student who is interested in entrepreneurship and innovation. We maximize the ability of our students and alumni to address important challenges through entrepreneurship and entrepreneurial thinking. Ignited by great ideas, our faculty, students, and alumni turn innovative concepts into scalable and sustainable businesses and bring entrepreneurial development to existing companies eager for change. In a world hungry for productive innovation, our disciplined approach challenges concepts, focuses ideas, and provides the know-how to turn fledgling businesses into strong, enduring organizations. Learn more at venturelab.upenn.edu.
###