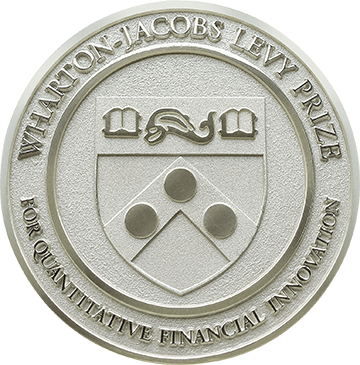 PHILADELPHIA, September 13, 2022—The Wharton-Jacobs Levy Prize for Quantitative Financial Innovation will be awarded to Narasimhan Jegadeesh and Sheridan Titman at a conference hosted by the Jacobs Levy Equity Management Center for Quantitative Financial Research at the Wharton School of the University of Pennsylvania. The event will be held Friday, September 16 in New York.
Jegadeesh and Titman will receive the Wharton-Jacobs Levy Prize for their research on momentum investing from their 1993 Journal of Finance paper, "Returns to Buying Winners and Selling Losers: Implications for Stock Market Efficiency." Their article showed that strategies of buying recent stock winners and selling recent losers led to significant positive returns.
"Narasimhan Jegadeesh and Sheridan Titman's work on momentum investing is as creative as it is rigorous," said Erika James, Dean of the Wharton School. "We honor them for improving our understanding of complex financial phenomena, which exemplifies Wharton's commitment to elevating the impact of high-quality scholarship to drive innovation in finance and progress in business and in society."
Jegadeesh is the Dean's Distinguished Chair in Finance at the Goizueta Business School at Emory University, and Titman is the Walter W. McAllister Centennial Chair in Financial Services at the McCombs School of Business at the University of Texas at Austin.
In addition to the Prize ceremony, the conference program will feature paper presentations and a panel discussion on the past, present, and future of momentum investing. Speakers include Jeremy Siegel of Wharton, Mark Carhart of Kepos Capital, and Tobias Moskowitz of Yale School of Management and AQR Capital Management.
"Throughout the program, we will explore the impact of the 1993 paper by Jegadeesh and Titman on academic research and financial practice in the decades since its publication," said Chris Geczy, adjunct professor of finance and co-academic director of the Jacobs Levy Center.
Many studies, some looking as far back as the 19th century, have confirmed the initial findings by Jegadeesh and Titman. Their research also led fund managers to adopt new strategies.
"Their work challenged the expanding view of the superiority of passive investment strategies and had an enormous impact on the world of investing," said Craig MacKinlay, Joseph P. Wargrove Professor of Finance and co-academic director of the Jacobs Levy Center.
A committee of academics and financial practitioners selected Jegadeesh and Titman to receive the Wharton-Jacobs Levy Prize, an $80,000 award. The Prize is endowed with a $2 million gift from Bruce I. Jacobs, PhD, G'79, GrW'86 and Kenneth N. Levy WG'76, G'82, principals and co-founders of Jacobs Levy Equity Management. It is given biennially to recognize excellence in quantitative research that has contributed to a particular innovation in the practice of finance.
"Jegadeesh and Titman's momentum findings were strong evidence against the efficient market hypothesis and a significant advancement for the investment industry," said Bruce Jacobs, who served as chair of the selection committee. "They documented a factor of considerable strength and robustness that could be harnessed by skilled practitioners for the benefit of investors."
The conference and Wharton-Jacobs Levy Prize ceremony will be held at the New York Marriott Marquis. Sponsors include Jacobs Levy Equity Management and Portfolio Management Research, and the event will feature a live broadcast of the Wharton on SiriusXM Channel 132 show Behind the Markets. For the full agenda, visit: https://bit.ly/2022WhartonJLC.
About the Jacobs Levy Center
Led by Professors Chris Geczy, PhD, C'90 and Craig MacKinlay, PhD and established through the vision and generosity of Bruce Jacobs, PhD, G'79, GRW'86 and Ken Levy, WG'76, G'82, the Jacobs Levy Equity Management Center for Quantitative Financial Research at the Wharton School of the University of Pennsylvania is dedicated to the advancement of quantitative finance, at the intersection of theory and practice, through the creation and dissemination of innovative knowledge.
About the Wharton School
Founded in 1881 as the world's first collegiate business school, the Wharton School of the University of Pennsylvania is shaping the future of business by incubating ideas, driving insights, and creating leaders who change the world. With a faculty of more than 235 renowned professors, Wharton has 5,000 undergraduate, MBA,executive MBA, and doctoral students. Each year 13,000 professionals from around the world advance their careers through Wharton Executive Education's individual, company-customized, and online programs. More than 104,000 Wharton alumni form a powerful global network of leaders who transform business every day. For more information, visit www.wharton.upenn.edu/.
###