PHILADELPHIA, February 14, 2023 — Penn President Liz Magill and Wharton Dean Erika James are pleased to announce the appointment of Marissa King as the inaugural Alice Y. Hung President's Distinguished Professor at the Wharton School of the University of Pennsylvania, effective January 1, 2023.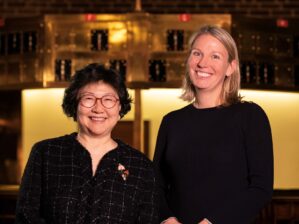 The Alice Y. Hung President's Distinguished Professorship was endowed with a generous gift from Alice Yin Hung, C'90, W'90 in 2015. The professorship provides instrumental support to the University in recruiting and retaining eminent faculty at the Wharton School.
Professor Marissa King joins the Wharton School from Yale University's School of Management, where she served as professor of organizational behavior. She specializes in the research of social networks, social influence, and team dynamics. At Yale her most recent work included examining the role social networks play in the prescription drug abuse epidemic. King is also interested in how to effectively leverage networks to treat opioid use disorders and address the increasingly problematic effects of loneliness in society. Professor King joins Wharton as a professor in Health Care Management.
"Marissa King is a nationally recognized leader who studies the influence of social networks on human behavior. Her work has implications for understanding individual and group behavior in many contexts," said Penn President Liz Magill. "We are thrilled to have her join the Penn faculty as the Alice Y. Hung President's Distinguished Professor, and we are grateful for Alice Hung's thoughtful philanthropy in creating this endowed professorship to support such important work."
"I am filled with gratitude for Alice Hung's longstanding dedication to Wharton, including her generosity in creating this faculty chair, which has allowed Penn to offer Professor King a place amongst the University's exceptional faculty," said Wharton Dean Erika James. "Professor King's research touches on some of the most pressing and salient issues facing not only the profession of healthcare, but of society at large – topics that are particularly relevant to Philadelphia and our surrounding global community. I am delighted to be able to welcome her to the Wharton School and grateful to Alice for her leadership and impactful support, which will bear lasting outcomes in student learning and research applications."
Hung said, "I believe that the path to success is through investing in people and I am honored to be able to support the research and career of Professor King. I appreciate Professor King's research in the intersection of business and healthcare, which is an area that I am passionate about. I look forward to seeing the new paths that Wharton's Health Care Management program will forge with Professor King as part of the team."
Alice Yin Hung is the founder and CEO of Universal (Hong Kong) Technology Co. Ltd., a leading scientific and analytical instruments sales and distribution company in Asia; and the founder of CFR Engines Group of Companies, a leading testing instrument manufacturer for petroleum-related products. Ms. Hung is also a keen entrepreneur and innovator, who has an interest in the full gamut of business innovations, from biotech to data security. Hung currently serves as Chair of Wharton's Executive Board for Asia and has been a board member since 2014. She has been in service to Wharton and the University in numerous capacities over the years. In 2019, Hung was named China Entrepreneur of the Year at the Wharton Global Forum in Shanghai. In addition to her support of faculty, Hung has contributed to the Penn Wharton China Center, and recently created an endowed scholarship to support international undergraduate student financial aid at Penn.
About the Wharton School
Founded in 1881 as the world's first collegiate business school, the Wharton School of the University of Pennsylvania is shaping the future of business by incubating ideas, driving insights, and creating leaders who change the world. With a faculty of more than 235 renowned professors, Wharton has 5,000 undergraduate, MBA, executive MBA, and doctoral students. Each year 13,000 professionals from around the world advance their careers through Wharton Executive Education's individual, company-customized, and online programs. More than 104,000 Wharton alumni form a powerful global network of leaders who transform business every day. For more information, visit www.wharton.upenn.edu.
###