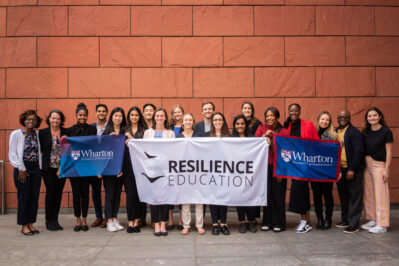 PHILADELPHIA, April 20, 2023—Resilience Education today announced a partnership with the Wharton School at the University of Pennsylvania that will provide business education to incarcerated individuals. The program, called Resilience Education | Wharton WORKS, is an initiative developed in partnership with Wharton's Coalition for Equity and Opportunity, and is designed to equip justice-impacted individuals with the tools and knowledge to thrive in their careers and personal lives.
Resilience Education, co-founded and led by Tierney Fairchild C'89, is a 12-year-old nonprofit and the leader in bringing business education to incarcerated learners through partnerships with leading business schools across the United States.
The Resilience Education | Wharton WORKS program is led by Wharton Professor Damon Phillips, who has long been a champion of social impact and entrepreneurship within the business world.
"Providing business education to incarcerated individuals is an important step in breaking the cycle of poverty and incarceration that affects so many communities in the United States and specifically in the Philadelphia area," said Professor Phillips. "I am excited for this partnership that allows our MBA students, as future leaders, to both teach and learn from incarcerated learners."
In fall 2022, Professor Phillips taught Reforming Mass Incarceration and the Role of Business, a Wharton MBA course on the challenge of mass incarceration and opportunities for the business community to help create positive change. This spring, 16 MBA students from that course taught cases within Resilience Education's flagship Financial Capability course to 25 incarcerated learners at the State Correctional Institution – Chester (SCI Chester) in Delaware County, Pennsylvania. Wharton will follow the same model with a larger MBA teaching group and the full Resilience Education curriculum in fall 2023.
Wharton MBA instructors were provided a unique opportunity to teach in the Little Scandinavia housing unit of SCI Chester, a unit that incorporates ideas and concepts from Scandinavian prisons focused on rehabilitation and reintegration. This partnership is led by the Pennsylvania Department of Corrections, the Norwegian Correctional Service (Kriminalomsorgen), the Swedish Prison and Probation Service (Kriminalvården), Drexel University, and the University of Oslo.
"If Little Scandinavia can help with sustaining a re-entrant's success in the community, then the program is a win. Part of the program involves partnering with community and educational powerhouses like Resilience and Wharton," said SCI Chester Superintendent Gina Clark. "These partnerships and the workshops they offer can only add to the substance of what the vision is for a unit of this design."
Traditionally, business schools have not addressed the interplay between the problem of incarceration and the business world. However, as more MBA students seek careers in social impact, business schools are investing in this space to attract and engage their students. Resilience Education | Wharton WORKS shows Wharton's leadership role in legitimizing reentry, creating pathways to meaningful careers, and promoting positive employment outcomes for this community. It also builds upon Resilience's pioneering work at the University of Virginia's Darden School of Business and Columbia Business School.
The Resilience Education | Wharton WORKS program is a testament to the power of collaboration between academic institutions and nonprofit organizations. Resilience Education plans to enable other business schools to implement their own version of Resilience Education | Wharton WORKS to expand the business world's positive impact on the lives of incarcerated and reentering individuals as they educate future business leaders.
About Resilience Education
Resilience Education is a nonprofit organization that partners with business schools across the United States to deliver business curricula to incarcerated learners and support their careers post-release through mentorship and business networks. For more information, visit www.resilience-education.org.
About the Wharton School
Founded in 1881 as the world's first collegiate business school, the Wharton School of the University of Pennsylvania is shaping the future of business by incubating ideas, driving insights, and creating leaders who change the world. With a faculty of more than 235 renowned professors, Wharton has 5,000 undergraduate, MBA, executive MBA, and doctoral students. Each year 13,000 professionals from around the world advance their careers through Wharton Executive Education's individual, company-customized, and online programs. More than 104,000 Wharton alumni form a powerful global network of leaders who transform business every day. For more information, visit www.wharton.upenn.edu.
About the Wharton Coalition for Equity and Opportunity
Created in 2022 as part of Dean Erika James' strategic plan, Wharton's Coalition for Equity and Opportunity (CEO) partners with for-profit and nonprofit entities to address inequity through applicable research and tangible workplace solutions with the expressed goal of expanding access to economic opportunities for all. Led by Senior Advisor to the Dean Ken Shropshire, CEO's robust roster of cross-sector researchers work closely with organizations to develop insights needed to inform business strategy for their workforces, marketplaces and communities.
###