For 27 years the Moskowitz Prize has identified and recognized research results that can influence global practice of responsible finance.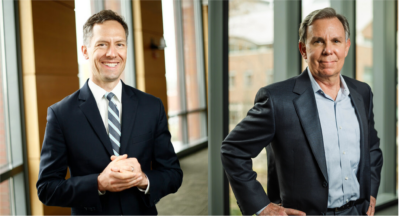 CHICAGO, April 13, 2023—From a field of over 160 submitted papers, Dissecting Green Returns was selected as the winner of the 2022 Moskowitz Prize at Northwestern University. The award, which recognizes high-impact research in sustainable finance, was presented to Lubos Pastor (University of Chicago Booth School of Business), Robert Stambaugh (The Wharton School), and Lucian Taylor (The Wharton School).
The Moskowitz Prize, now in its 27th year, is awarded annually to a research paper that demonstrates both impeccable empirical methods and strong potential to influence real-world business and investment practices related to sustainability.
"The study identifies a green factor that has impacted asset prices and portfolio returns in recent years," says Lloyd Kurtz, founder of the Moskowitz Prize and again one of the judges this year. "They show that superior returns of green stocks were at least partly due to a change in investor preferences. But outperformance likely won't continue over the long term. That's good for green companies because it gives them a lower cost of capital—a big advantage in a competitive economy. So it's an important paper for showing that sustainability is now priced into markets and past strong returns don't guarantee future ones."
The Expected Return of Green Investments 
The paper aimed to understand what kind of returns investors should expect from green (environmentally friendly) versus brown assets in the future. Theory suggests that investors derive satisfaction from owning responsible investments, and that green assets can hedge against climate risk, which should drive prices higher and the expected rate of return lower.
Yet, in the last 10 years green assets have outperformed brown, confounding what we might expect from theory alone.
How do the authors explain this unexpected outcome? The researchers looked at factors that could account for differences in expected versus realized returns and discovered that unexpected adverse climate news explained why green assets delivered higher returns in the study period. When they removed the impact of such news and unanticipated earnings, green stocks would have underperformed brown stocks as predicted.
In general, the team's findings suggest that the outperformance of green versus brown stocks should not be expected to continue, because it was driven by unexpected news. In other words, their findings indicate that investors should retain the assumption that green stocks will have lower expected returns in the future.
Read the Moskowitz Prize Research Brief to learn more about the methodology, data, results, and real-world applications of Dissecting Green Returns.
Support for the Moskowitz Prize
The relevance of the Moskowitz Prize to the business domain is reflected in its premier sponsors, which this year included six financial institutions led by Bailard, the Calvert Institute for Responsible Investing, and Wells Fargo.